Gunman Opens Fire at Thai Protesters
December, 28, 2013 - 11:53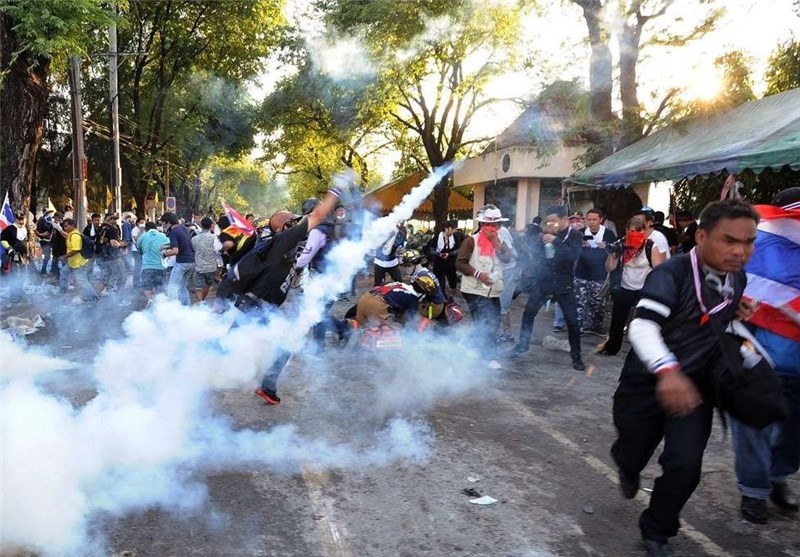 TEHRAN (Tasnim) - An unidentified gunman opened fire at opposition protesters in Bangkok Saturday, killing one person and wounding several others in a pre-dawn attack.
The shooting follows weeks of mass anti-government protests -- seeking to topple Prime Minister Yingluck Shinawatra -- that have triggered bloody clashes between police and demonstrators.
A protester died after he was shot in the torso and three others were hospitalised with gunshot wounds, a spokesman for the city's Erawan emergency centre said.
Police confirmed the shooting but said its forensic team was unable to access the scene of the incident, which happened where a group of protesters was camped overnight near Government House.
It was unclear who fired the shots but armed provocateurs have a history of trying to stir tensions in the politically polarised kingdom, with each side usually blaming the other, AFP reported.
Some local media reports said the shots were fired from a passing car by more than one gunman.
Yingluck has called February elections in the hope of bringing an end to the demonstrations, which have drawn tens of thousands of people seeking to curb her billionaire family's political dominance.
But the protesters have vowed to block the vote, saying it will only return the Shinawatra clan to power.
A second round of registration for constituency candidates was due to begin around the country on Saturday, raising fears of further clashes.
Eight people, including a policeman, have been killed and about 400 wounded in several outbreaks of street violence.
The government has said it will ask the army to provide security for election candidates and voters.