7 Injured in Thai Protest Shooting
TEHRAN (Tasnim) - Seven people were wounded, one seriously, after gunmen opened fire on anti-government protesters in Bangkok early on Saturday.
January, 11, 2014 - 12:18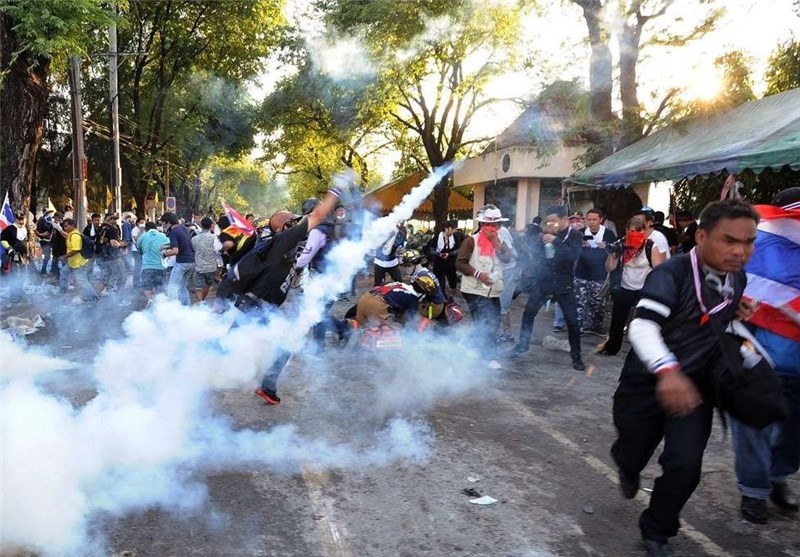 "Two shootouts occurred in the early hours of this morning at an intersection near the Khao San Road tourist area. Altogether seven people were injured, most of them anti-government protesters. We are still investigating who the gunmen were," said national police chief Adul Saengsingkaew.
One of the injured protesters remains in a critical condition, according to the Erawan Medical Center which monitors Bangkok hospitals.
The incident follows clashes between government supporters and protesters on Friday outside Bangkok that left at least six people injured, Reuters reported.
At a celebration to mark national Children's Day on Saturday Thailand's army chief, Prayuth Chan-ocha, said he feared an escalation in violence next week.
"I am concerned about security because there will be many people. The violence is increasing...," said Prayuth.
"We can think differently but we cannot kill each other. Please don't use violence."
The turmoil is the latest episode in an eight-year conflict that pits Bangkok's middle class and royalist establishment against the mostly poorer, rural supporters of Yingluck and her brother, former premier Thaksin Shinawatra, who was overthrown in a military coup in 2006.
The protesters accuse the Shinawatra family of corruption and nepotism. Yingluck called a snap election for February 2, but this failed to placate protesters, who want her government to resign to make way for an unelected people's council to oversee political reform.
Many Thais believe the military will soon step in to break the political deadlock, especially if the protests turn violent, and rumors of an impending coup have intensified.
The army has staged or attempted 18 coups in 81 years, but it has tried to remain neutral this time.
The authorities say they will deploy more than 14,000 troops and police on Monday, including police at the main airport, to maintain order in the streets.
Protesters led by former opposition politician Suthep Thaugsuban aim to paralyze Bangkok starting Monday for between 15 and 20 days. They plan to block seven main intersections, causing gridlock in a city clogged with traffic at the best of times, and say they could block other areas as part of their prolonged siege of the city.
Paralyzing Bangkok is the latest bid in a two-month attempt by protesters to topple Yingluck.