Thai Protesters Start Bangkok "Shutdown" in bid to Topple PM
TEHRAN (Tasnim) - Thousands of anti-government protesters set up blockades at several major intersections in Bangkok on Monday as they sought to cripple Thailand's capital, stepping up pressure on Prime Minister Yingluck Shinawatra to resign.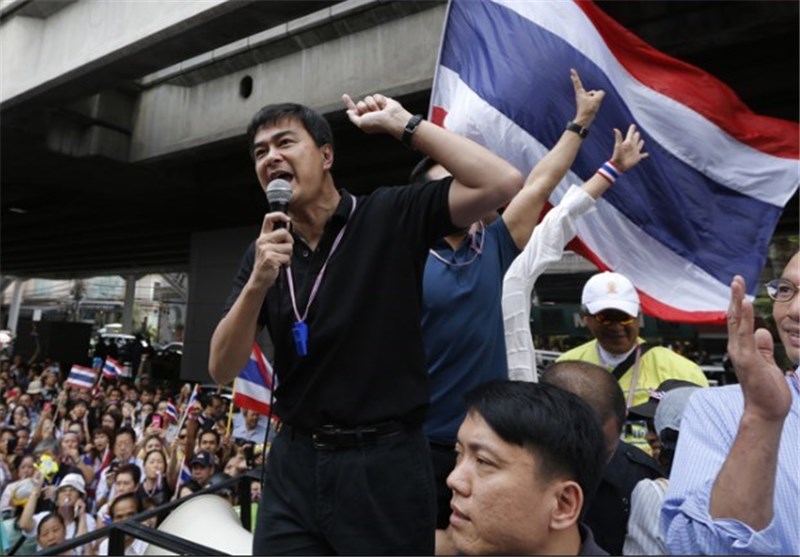 Police and soldiers kept watch as parts of the city of about 12 million people ground to a halt, but there were no signs that the government was preparing to resist the protesters with force.
The upheaval is the latest chapter in an eight-year conflict pitting Bangkok's middle class and royalist establishment against the mostly poorer, rural supporters of Yingluck and her self-exiled brother, billionaire former premier Thaksin Shinawatra.
Thaksin was ousted by the military in 2006 and sentenced to jail in absentia for abuse of power in 2008, but the one-time telecoms tycoon still looms large over Thai politics and is the dominant force behind his sister's administration from his home in Dubai.
Eight people, including two police officers, have been killed and scores wounded in violence between protesters, police and government supporters since the campaign against Yingluck's government started in November, Reuters reported.
Shootings were reported overnight near a government administrative complex that protesters began to blockade late on Sunday and at the headquarters of the opposition Democrat Party, which has thrown in its lot with the protest movement.
Although city trains and river ferries were still operating, protesters set up barricades and encampments at seven critical road intersections, and others were being blocked too. Only motorcycles plied the city's main arteries.
At one junction, near the American and Japanese embassies, around 100 protesters sat on the road to halt traffic. Som Rodpai, 64, said they would leave after nightfall, amid fears their citywide protest could spark a violent reaction.