Ukraine Protesters Clash with Riot Police
January, 20, 2014 - 14:28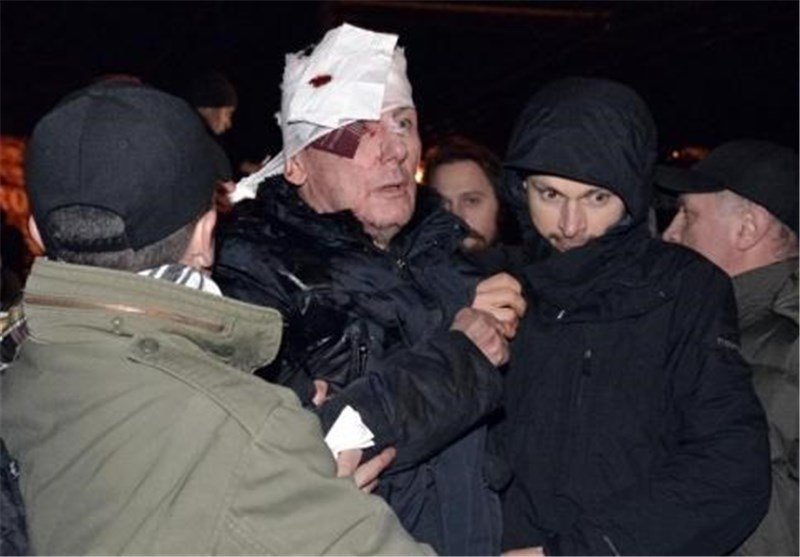 TEHRAN (Tasnim) - Thousands of anti-government demonstrators clashed for hours with riot police in Ukraine's capital, attacking officers with sticks, stones and flares after new laws were passed to stifle protests.
The riots, some of the most violent Kiev has seen in recent times, were continuing well into the early hours of Monday morning.
They have further raised the stakes in the almost two-month standoff between the opposition and President Viktor Yanukovych which has seen protesters seize control of the main city square in Kiev
Health officials said 24 people were injured and three were hospitalised, while police said more than 70 officers had been hurt. The interior ministry said 10 people had already been arrested for mass rioting.
The protesters, many wearing hard hats and gas masks in defiance of new legislation banning them from covering their faces, also used stun grenades and fire extinguishers on officers at Sunday's rally in Kiev. Several police buses and cars were also torched.
Police responded by using tear-gas and stun grenades of their own. Water cannons were also fired at the protesters in temperatures of -8C, but the clashes continued.
Despite appeals from opposition leaders not to resort to violence, and a personal intervention from Vitaly Klitschko, a Ukrainian boxer turned politician, protesters continued to throw smoke bombs and hurl fireworks and other objects at police.
Against this backdrop, Yanukovych met Klitschko at the former's Mezhygirya residence and the pair pledged to create a cross-party commission to resolve the ongoing crisis.
"The president pledged to create on Monday morning a commission with representatives from the presidential administration, cabinet and opposition to find a solution to the crisis situation," Klitschko's party quoted him as saying.
The protests, initially prompted by Yanukovych's decision to reject a trade deal with the European Union and instead opted for closer ties with Russia. They intensified following police violence, Al Jazeera reported.
Up to 100,000 people had massed in defiance of sweeping new laws aimed at stamping out anti-government demonstrations.