Koreas Agree to Family Reunions in February
TEHRAN (Tasnim) – North and South Koreas have agreed to hold reunions for families separated after the Korean War, following calls from Pyongyang to improve ties.
February, 05, 2014 - 11:48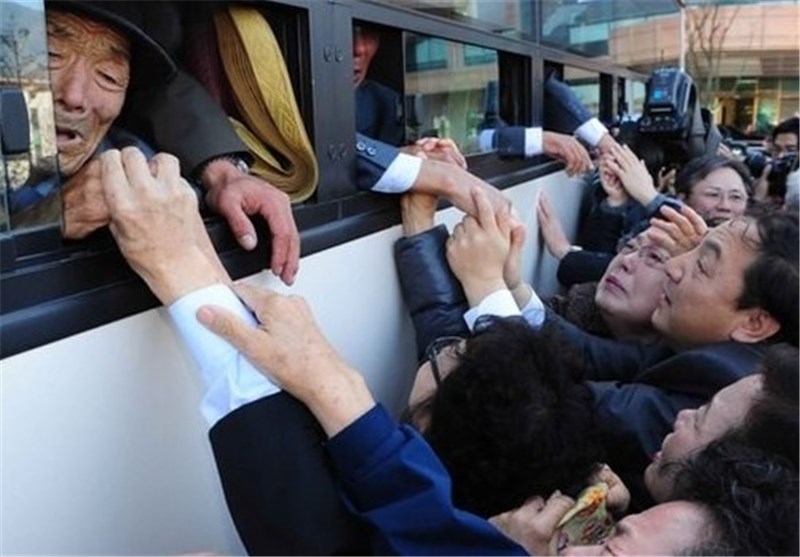 The reunions are scheduled to take place in February. If held, they would be the first reunions since 2010.
In September, the North cancelled a planned reunion, blaming "hostility" from the South.
The move comes ahead of annual US-South Korea military drills later this month, which are expected to anger the North, the BBC reported.
Millions were separated from their families by the division of the Korean peninsula after the 1950-1953 war. The reunion events are often emotional occasions where North and South Koreans meet briefly in the North before heading home again.
The program was suspended after the North's shelling of a South Korean border island in November 2010.
The reunions are scheduled to be held from 20 February to 25 February, at the Mount Kumgang resort in North Korea.
Before the meeting, Lee Duk-haeng, head of South Korea's delegation, said: "We will make all-out efforts to come up with good results such as on a schedule for the family reunion so that we can deliver good news to separated families.
"We will do our best to start the New Year off on the right foot for the South-North relationship."
In September, Pyongyang cancelled the planned reunions of 100 families, blaming South Korea's "confrontational attitude". Critics have accused the North of using reunions as a bargaining chip.
It is estimated that there are about 72,000 South Koreans - nearly half of them aged over 80 - on the waiting list for a chance to join the family reunion events.
However, only a few hundred participants are selected each time. Most do not know whether their relatives are still alive, because the two countries prevent their citizens from exchanging mail, phone calls and emails.