Leader Underscores Iran's Determination to Preseve Principles of Islamic Revolution
TEHRAN (Tasnim) – Supreme Leader of the Islamic Revolution Ayatollah Seyed Ali Khamenei placed a great emphasis on the need for safeguarding the fundamental tenets of the Islamic Revolution, and stressed the necessity for explicit and outright support for those principles.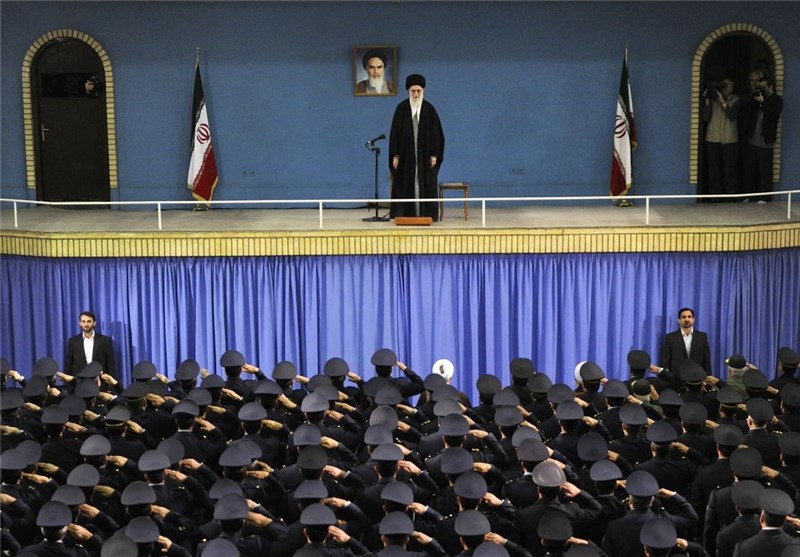 "Tactics and methods of the job can be changed, but the fundamentals and principles should remain firmly in place, and the very same issue is the secret to the country's strength and progress," Ayatollah Khamenei said, addressing a large gathering of the Islamic Republic of Iran Air Force (IRIAF) commanders and personnel here in Tehran on Saturday.
The Leader referred to "explicitness in proclaiming the basics and stances" as the secret to the durability of the Islamic Revolution, and added, "One should by no means lose such explicitness and transparency in dealing with the Iranian nation's friends and foes, and the Islamic Republic of Iran's stances should be expressed clearly and explicitly."
Ayatollah Khamenei also paid tribute to the late founder of the Islamic Revolution, Imam Khomeini, for his overt and unequivocal stances against the former despotic regime in Iran, and his firm stances against the dangerous Zionist network and the fake Zionist regime of Israel.
"These cases are the Islamic Revolution's basics and pillars," the Leader said of Imam Khomeini's aspirations, and added, "After 35 years (following the victory of the Islamic Revolution), these basics and goals have remained unchanged."
"The Iranian nation's explicit and firm insistence on the (Islamic) revolution's principles and fundamentals has made the world nations and even the evenhanded elites to see the Iranian nation as a brave, sincere, smart, resisting and patient one despite the 'Iranophobia' policy of the propaganda systems affiliated with the interfering powers in recent years," Ayatollah Khamenei explained.
The Leader once again noted that the Islamic establishment in Iran receives its impetus from the public supports and the nation's solidarity with the government.
Ayatollah Khamenei further ensured that the Iranian nation will once again express their "national dignity" to the world during the forthcoming mass rallies on February 11.
Every year in February, Iranian people pour into the streets in their millions to commemorate the victory of the popular movement led by Imam Khomeini against the ousted Shah of Iran in 1979.