Nasrallah Warns against Menace of Takfiri Terrorists to Region
TEHRAN (Tasnim) - Secretary General of Lebanese Hezbollah Resistance Movement Seyed Hassan Nasrallah cautioned against the major threat posed by Takfiri (extremist) terrorists to the regional countries, saying they have no compunction about killing other Muslims and even their own peers.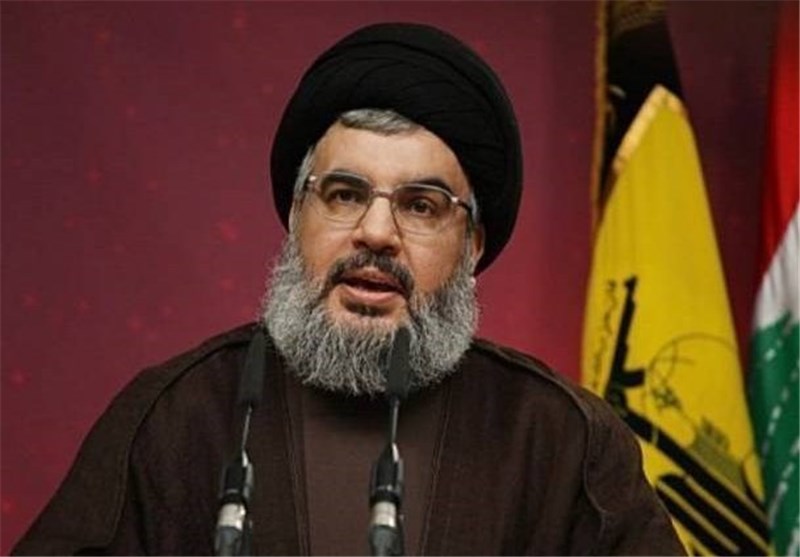 "Takfiri terrorism exists in the whole region, and it is made up of armed sets in the entire regional countries, it has adopted the logic of elimination," Nasrallah said in a televised speech on Sunday evening.
He made the remarks in a ceremony in the Lebanese capital of Beirut, held to pay tribute to the martyrs to the cause of resistance movement.
He said Takfiri thoughts would not pose a major threat as long as they remain as beliefs alone, but the real problem emerges once the Takfiri terrorists resort to vicious acts to kill other people and even murder their own peers whenever their interests are at stake.
He also made it clear that Saudi Arabia is providing the Takfiri terrorists with financial and military supports across the Middle East.
Saudi-backed Takfiri groups aim to create rift among Muslims and instigate sectarian strife in the whole region, Nasrallah warned.
The Lebanese renowned figure then referred to the armed groups fighting in Syria, such as the al-Nusra Front and the Islamic State of Iraq and the Levant (ISIL) as the best examples of Saudi-backed Takfiri attitudes.
In relevant remarks on January 19, Supreme Leader of the Islamic Revolution Ayatollah Seyed Ali Khamenei warned against the growing threat posed by the Takfiri groups to the Islamic world, and urged the Islamic nations to remain vigilant in the face of that "major threat".
"Unfortunately, some Muslim governments are heedless of the consequences of supports for this (Takfiri) stream, and do not realize that the same fire (Takfiri current) will burn all of them as well."
The Supreme Leader further said enemies of Islam are attempting to divert attention from the issue of Palestine, warning that the enemies aim to trigger civil wars in the Muslim countries, to aggravate rifts and to promote Takfiri and extremist beliefs in order to achieve their vicious purpose.
The Leader then argued that the Takfiri groups benefit from the financial and military backing of the security services of the arrogant powers and their proxies.
The growing trend in religious differences among Muslims and internal skirmish in the Islamic nations over the past few years has been indeed the global tyrants' reaction to a surge in the Islamic awakening movements, the Leader explained.