Plans Underway for Development of Iran's Southern Coasts
TEHRAN (Tasnim) - Iranian president said his administration has devised development plans for the country's southern littoral provinces on the rims of the Persian Gulf and the Sea of Oman, including initiatives to develop new industries.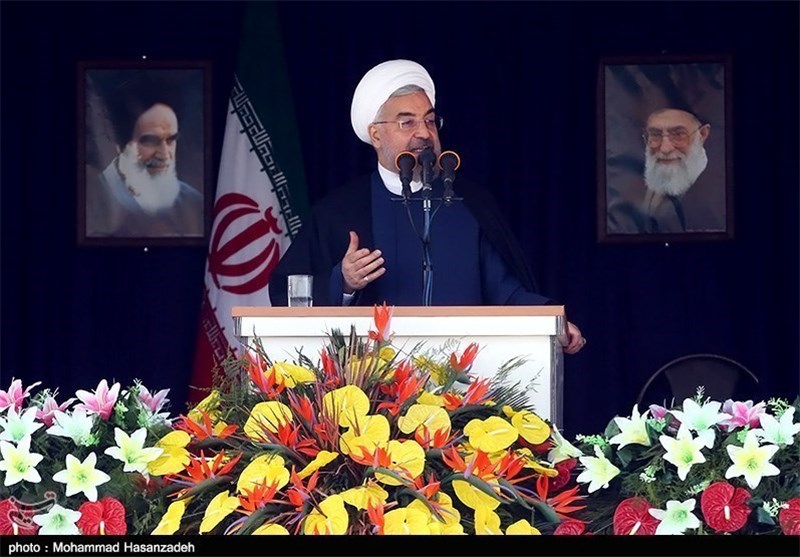 Addressing a huge gathering of people in Iran's southern province of Hormozgan on Tuesday, President Hassan Rouhani hailed the province as a "very important and strategic" one for the country, noting that plans are currently underway to give a fresh impetus to that region's economy and industry.
"One of the objectives of the administration ... will be to make the southern coasts and islands in the Persian Gulf region and the Sea of Oman flourish," the president announced.
He went on to say that Iran's southern coastline, which stretches about 2,000 kilometers, needs to develop by the creation and promotion of industries such as steelmaking and ship-building.
"Hormozgan province will become one of the very important hubs of the country's steel (industry)," Rouhani underlined.
He further unveiled plans to revive ship-building, tourism and fishery industries in that province.
He also noted that a series of new energy projects will be implemented in the southern province, like plans to construct new gas and oil pipelines and to set up petrochemical industries, stressing that those projects will rejuvenate Hormozgan.
Pointing to the international companies' willingness to make investment in Iran, President Rouhani said the atmosphere has recently changed in favor of Iran, in a way that "the whole merchants and investors in the world have opted for the path to Iran".
The president underlined that the unilateral sanctions imposed on the country are being lifted following the negotiations between Iran and the world powers to settle the West's standoff over Tehran's peaceful nuclear program.
The administration, Rouhani added, is resolved to restore the Iranian nation's rights, including the right to exports, free trade, monetary and banking transactions, as well as development.
Iran and Group 5+1 (the US, Britain, France, Russia and China plus Germany) signed a six-month deal on Tehran's nuclear program on November 24, 2013, based on which the world powers agreed to suspend some non-essential sanctions and to impose no new nuclear-related bans in return for Tehran's decision to freeze parts of its nuclear activities and to allow more inspection of its nuclear facilities.
The Geneva deal also stipulates that over the course of six months, Iran and the six countries will draw up a comprehensive nuclear deal which will lead to a lifting of the whole sanctions on Iran and Tehran will provide the world verifiable guarantees that its nuclear program is solely for peaceful purposes.
The two sides are scheduled to hold a fresh round of talks on from March 17 to 20 in the Austrian capital of Vienna.