Spokeswoman Regrets Merkel's Remarks on Iran
TEHRAN (Tasnim) – Iranian Foreign Ministry Spokeswoman Marziyeh Afkham criticized German Chancellor's remarks against the Islamic Republic of Iran, and called on Angela Merkel to avoid ignoring realities in the region.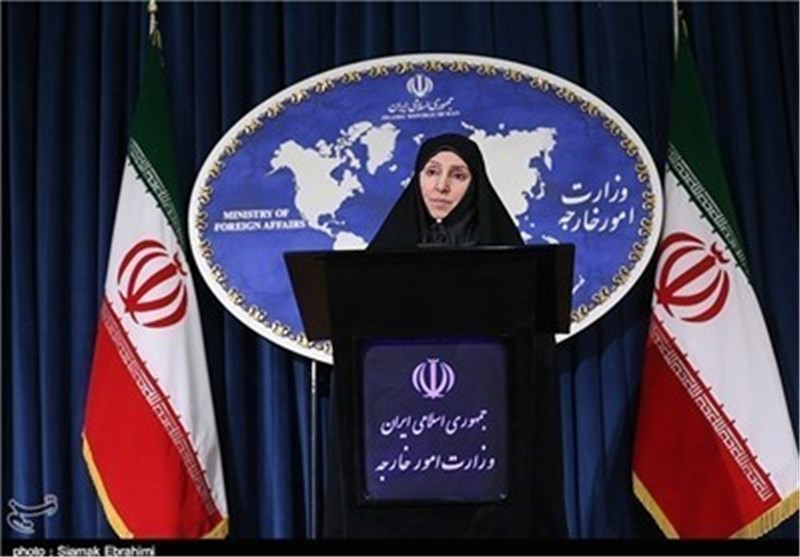 Speaking on Wednesday evening, Afkham voiced regret over the recent comments made against Iran by German Chancellor Angela Merkel during a visit to Tel Aviv.
Merkel said on Tuesday at a joint press conference with Israeli Prime Minister Benjamin Netanyahu that Berlin views Iran as a "potential threat not just to Israel, but also to European countries".
In reply, Afkham underlined that Iran has not posed a threat to any country and has not initiated any military offensives in the past 250 years.
"(Attempts) to please others should not lead to distorting or neglecting the realities of the region," the spokeswoman added.
She noted that the German chancellor's remarks were made in a place (Occupied Palestine) where there has been the highest rate of human rights violations, aggressions and crimes against Palestinians and against other regional countries.
Afkham, at the same time, hailed Merkel's acknowledgment of Tehran's right to continue uranium enrichment and stressed the importance of negotiation approach "to put an end to an unnecessary crisis".
In her joint press conference with Netanyahu, Merkel disagreed with Israeli premier's demand that Tehran give up all nuclear projects under any negotiated deal with world powers.
She said Germany would pursue international talks with Tehran on its nuclear activities.
"We have decided to take this path, that enrichment is only taking place at a low level, but enrichment is taking place," she said.
Iran and the Group 5+1 (the US, Russia, France, Britain and China plus Germany) wrapped up the latest round of negotiations in the Austrian capital of Vienna last Thursday.
The next round of talks between the two sides, aimed at reaching a comprehensive deal on Tehran's peaceful nuclear program, will be held from March 17 to 20 in Vienna.