Anti-War Protest Held outside AIPAC Meeting in Washington
TEHRAN (Tasnim) - The co-founder of CODEPINK, a peace and social justice movement, said hundreds of anti-war protesters call for peace with Iran outside the venue of the annual policy conference of American Israel Public Affairs Committee (AIPAC) in Washington DC.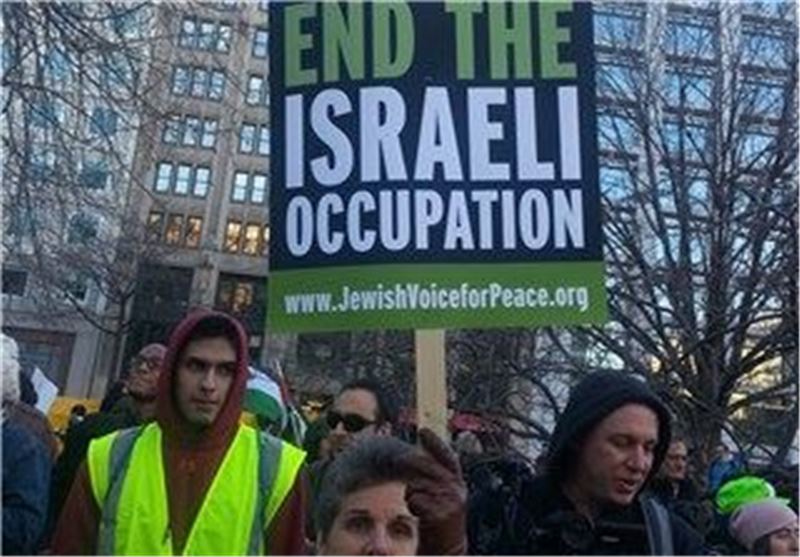 "We are here today outside of the AIPAC policy conference in Washington DC. There are several hundred people protesting the AIPAC policy conference. We are calling for peace with Iran and also justice to Palestinians," said Medea Benjamin in an interview with Press TV.
AIPAC, the most powerful pro-Israel lobby group in the United States, is pressing the administration of President Barack Obama to adopt harsher polices against Iran during the three-day conference which began on March 2.
AIPAC lobbyists have been circulating letters urging Obama to pursue a restrictive approach to Iran's nuclear program.
Benjamin added that the anti-war group has been staging similar protests in an annual basis in past several years because they "are sick of AIPAC having a stranglehold over US foreign policies."
The group has also been spearheading a boycott campaign against companies which have been collaborating with Israel including boycotting Elbit Systems, a company that manufactures drones for the Israeli army.
"Disgusted by AIPAC's moves to bring us to war with Iran? Sick of seeing US tax dollars go to Israel while they commit human rights violations in Palestine? Inspired by all the BDS (Boycott, Divestment and Sanctions) victories happening left and right?" reads a statement posted on the Facebook page of the peace group in order to invite its supporters to participate in the anti-Israeli protest dubbed as Boycott AIPAC.
She added that CODEPINK's campaign to boycott Israel has been "taking off especially among the young people."
Benjamin expressed the hope that through its boycott movement the group could force Tel Aviv "to comply with the international law."