Jaafari Slams Brahimi, Ban for Not Naming Terrorism, Foreign Interference
TEHRAN (Tasnim) - Syria's Permanent Representative to the United Nation, Bashar al-Jaafari, stressed that what is needed to solve the crisis in Syria is a genuine support for a Syrian national dialogue which protects the country from terrorism, violence and preserves its security and prosperity.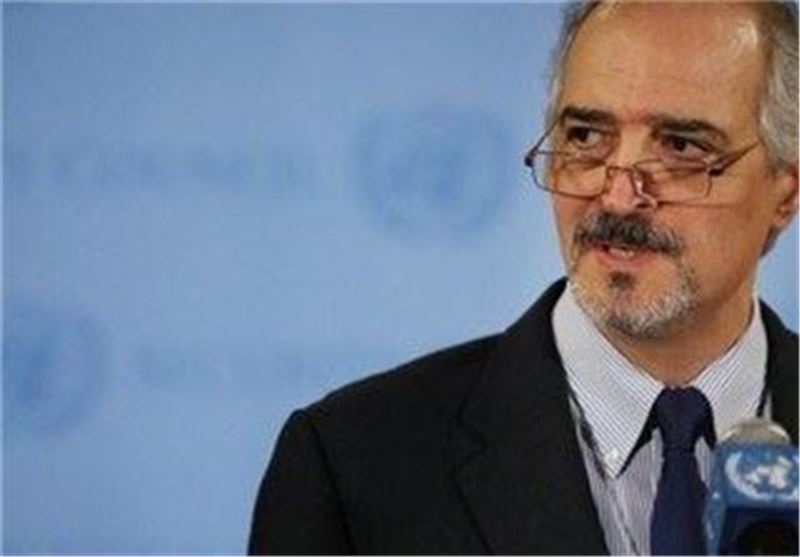 During a UN General Assembly's session to listen to UN envoy to Syria Lakhdar Braimi's briefing on Syria, Jaafari said Syrian government is ready to discuss all items of the draft agenda proposed by Brahimi in Geneva starting by ending violence and combating terrorism, Al-Manar reported.
Jaafari slammed Brahimi and UN Secretary General Ban Ki-moon's comments at the session as they ignored terrorism in Syria at a time when all acknowledge to the existence of armed terrorist groups in Syria, some of which are classified in the UN Security Council's terrorism lists, including the so-called Islamic State of Iraq and the Levant (ISIL) and al-Qaeda.
He also criticized the absence of any word, hint or a sign within their comments about implications of Arab, regional and international interference in the crisis in Syria.
"In his briefing, Brahimi even doubted the word of the 'national reconciliation' which is a main part of the draft agenda he has proposed in Geneva in the fourth item and we agreed on it and on this particular item, although the experiment of the national reconciliation has succeeded everywhere in the world, so why it doesn't succeed in Syria," Jaafari added.
Syria's Envoy affirmed illegal and unfair unilateral economic sanctions imposed on Syria was the reason behind the catastrophic economic situation in Syria.
He went on to say since the beginning of the crisis, the Syrian government called for a Syrian political solution to what is going on in the country, moreover, it also responded to the Arab League's initiative as well as it positively dealt with all the political initiatives for solving the crisis in Syria peacefully, including the UN Initiatives.
Jaafari pointed out that Syria also warned against spread of terrorism, extremism and violence in Syria and the whole region.
"Saudi Arabia's issuance of legislations and laws on terrorism would not excuse it from responsibility of supporting, financing and sponsoring terrorists in Syria," he said, criticizing the world silence towards Qatar's role in spawning terrorism and extremism in Syria and the region.