Iran Keen to Broaden Academic Ties with New Zealand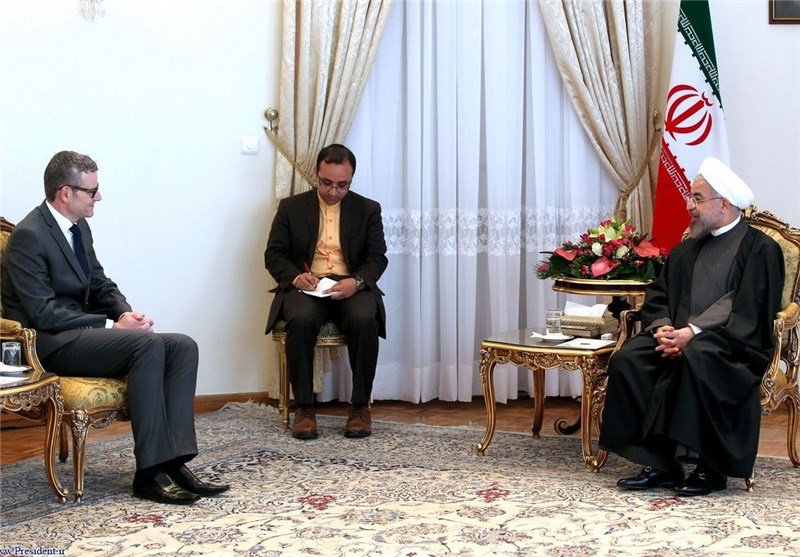 TEHRAN (Tasnim) – There are abundant opportunities for the expansion of relations between Tehran and Wellington, Iranian president asserted, as he voiced Iran's willingness to exchange university students and academics with New Zealand.
In a Tuesday meeting with the new New Zealand ambassador to Tehran, Iranian President Hassan Rouhani expressed the Islamic Republic's enthusiasm for the enhancement of academic interactions with the island country through the exchange of university students.
Citing the great tourist attractions in both Iran and New Zealand, President Rouhani also expressed the hope that the two nations would tap into their potential for attracting tourists in a bid to enhance their bilateral relations.
The Iranian chief executive further hoped that the new envoy's tenure in Tehran would usher in a progress in Iran-New Zealand economic relations, which he said have faced a slowdown in recent years.
New Zealand Ambassador Eamon O'Shaughnessy, for his part, said there are suitable grounds for the improvement of ties between the two nations.
He also praised the Iranian administration for its efforts to reach a deal with the world powers on Tehran's peaceful nuclear program and the consequent improvement in the international view on Iran, saying, "We support your efforts and all are optimistic about the betterment of the atmosphere."
Iran and the Group 5+1 (Russia, the US, Britain, China, France and Germany) have on November 24, 2013, clinched an interim six-month deal in the Swiss city of Geneva on Tehran's nuclear case.
The breakthrough deal (the Joint Plan of Action), which has come into effect since January 20, stipulates that over the course of six months, Iran and the six countries will draw up a comprehensive nuclear deal which will lead to a lifting of the whole sanctions on Iran.