Turkish Mine Operator Denies Negligence in Mine Disaster
TEHRAN (Tasnim) - The operator of the Turkish mine where 284 workers were killed earlier this week has denied it was negligent in a disaster that has sparked nationwide protests.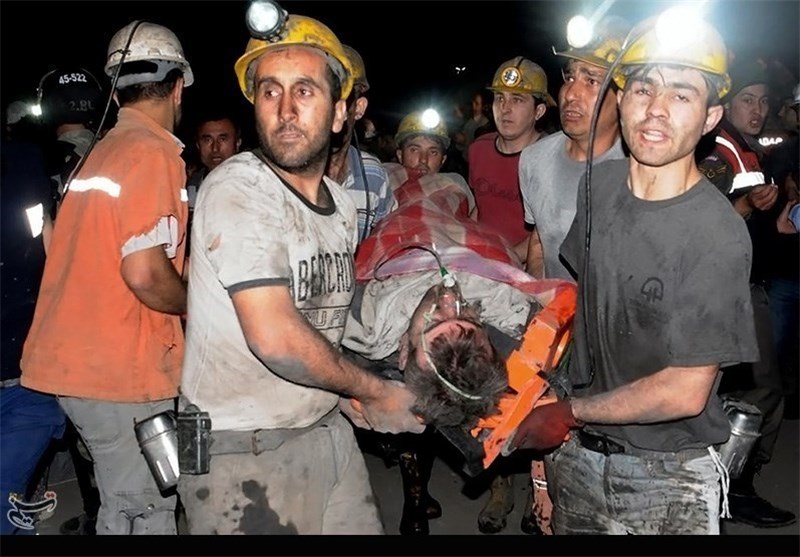 "We still do not know how the accident happened. There is no negligence of ours in this incident. We all worked heart and soul," Akin Celik, the plant manager of the mine, run by Soma Holding, said on Friday.
Soma Holding said that 284 people were confirmed dead after a fire in its mine in the western town of Soma. Eighteen others were thought still to be trapped underground. It is thought to be the worst mining disaster in Turkish history, AFP reported.
The company also said 363 people were evacuated from the mine after fire broke out on Tuesday and a further 122 miners were hospitalised. It said there were 787 miners working at the time.
Energy Minister Taner Yildiz said the search for survivors has been hampered by a mine fire that had spread to a conveyor system but progress was made Thursday on extinguishing it. Rescue operations have been suspended several times as burning coal inside created toxic fumes and too-risky conditions for the rescue teams.
No miner has been brought out alive since Wednesday. The ongoing fire lessens the chances that the missing miners are still alive, said FRANCE 24's Jasper Mortimer, reporting from Ankara, as the fire will absorb much of the oxygen that the men need to survive below ground.
The mine operator said on Friday that a build-up of heat had caused a partial collapse, denying initial reports that a fire had been linked to an electricity sub-station.
Turkish Prime Minister Tayyip Erdogan visited Soma Wednesday, where he was made unwelcome by angry families of miners and protesters.
Erdogan, who is expected to soon announce his candidacy for Turkey's presidential election in August, was forced to take refuge at a supermarket after angry crowds called him a murderer and a thief, in a reference to alleged corruption, and clashed with police.