President Rouhani Meets Leader after Central Asia Trip
TEHRAN (Tasnim) - Iranian President Hassan Rouhani met with Supreme Leader of the Islamic Revolution Ayatollah Seyed Ali Khamenei after his return from a 5-day tour of Central Asia that took him to Kazakhstan and Tajikistan.
September, 13, 2014 - 12:38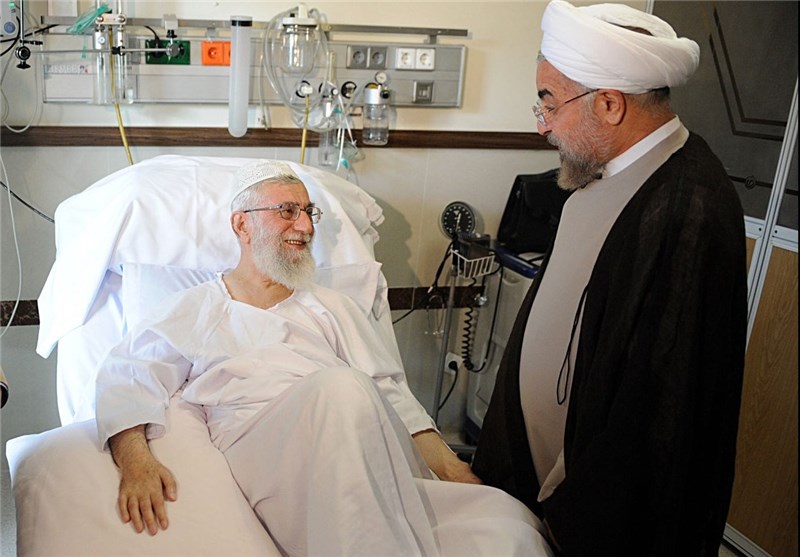 On Saturday morning, the Iranian president paid Ayatollah Khamenei a visit at a hospital in Tehran, where the Leader is staying for post surgery care.
Pointing to his 5-day tour of the two Central Asian nations and participation in the 14th summit of the Shanghai Cooperation Organization (SCO) in Tajikistan's Dushanbe, President Rouhani described his meetings with high-ranking foreign officials as "very good and constructive".
During the two-leg tour, Rouhani held separate meetings with presidents of Kazakhstan, Tajikistan, Uzbekistan, Turkmenistan, China, Russia and Afghanistan and also met India's foreign minister.
He also delivered a speech at the SCO summit on Friday.
"In the meetings with the heads of state (in Dushanbe), all presidents, particularly Russia's president, asked about your health and conveyed their greetings," Rouhani told Imam Khamenei.
On September 18, Ayatollah Khamenei underwent a surgery for prostate problem, which was performed successfully.