Violence Erupts near Toppled Lenin Statue in Kharkov, Ukraine
TEHRAN (Tasnim) - Tensions remain high around the toppled Lenin monument in Kharkov, Ukraine, where skirmishes saw a group of radical youths attack demonstrators protesting the demolition of the statue.
September, 30, 2014 - 18:12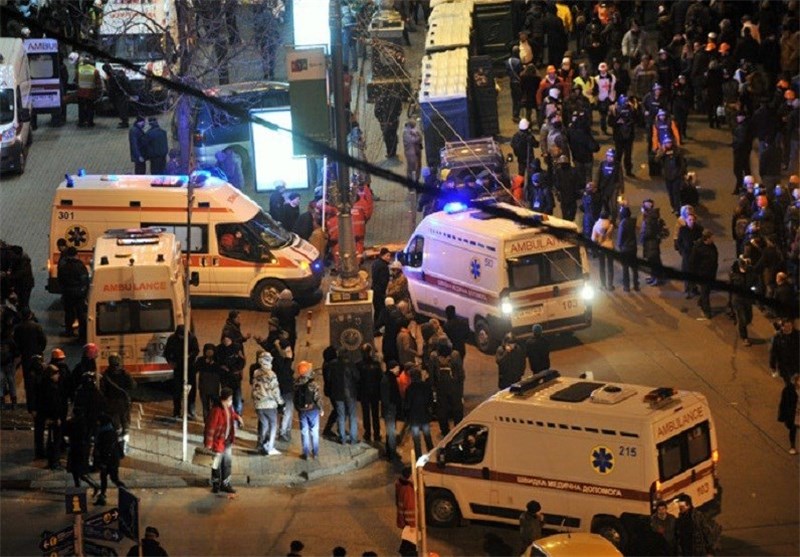 Videos of the clashes which emerged online show that the majority of the attackers were hiding their faces under balaclavas. Descriptions to the videos describe the radical youths as violent football fans, or 'Ultras'. Other reports pointed at youths wearing the nationalist Right Sector group's insignia.
One of the most disturbing episodes features a man with his face swollen and stained with blood being beaten by several people, with one of the attackers shouting "On your knees!" and "He insulted the Ukrainian people."
A crowd opposing the demolition of the Lenin monument gathered beside the now-empty pedestal on Monday, with many people laying flowers at the site.
In the evening, the peaceful rally participants were driven away by the radical youths, who threw firecrackers and smoke grenades at the crowd.
The youths then kicked the flowers off the plinth, chanted anti-Putin slogans and sang the Ukrainian anthem.
Some people tried to stand against the group. Skirmishes broke out, with no police acting to intervene against the mob, according to local media.
The Lenin monument in Kharkov was toppled overnight September 28-29, RT reported.