Police Attack Occupy London Protest
October, 20, 2014 - 13:09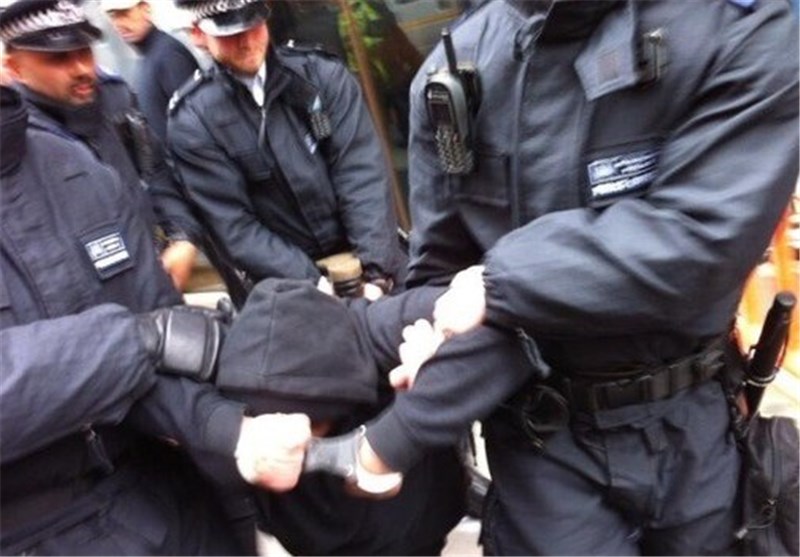 TEHRAN (Tasnim) – Occupy London has slammed Prime Minister David Cameron for voicing support for protests in Hong Kong, while taking a hardline approach to demonstrators at home.
Occupy London protesters rallying against China's handling of demonstrations in Hong Kong were themselves targeted by a police crackdown on Sunday night.
According to the Guardian, at least 50 Occupy protesters were dragged from Parliament Square by police. Authorities claim the three day old Occupy gathering in the square is illegal.
Under anti-protester laws passed in 2011, sleeping gear like tents and sleeping bags were banned in Parliament Square.
However, Occupiers say the police mostly seemed intent on seizing a tarpaulin used by protesters to sit on.
"Guess that's proportional policing? One hundred and forty police, mass arrests, violence, helicopters – all for a tarpaulin?," Occupy London's Twitter account stated.
In a video posted online by activists, dozens of police can be seen standing over a small group of protesters sitting on the ground.
The protest appears peaceful, with Occupiers chanting, "We shall not be moved."
The incident has been dubbed by activists as the "Battle of Tarpaulin." The "battle" began as a protest in solidarity with Hong Kong democracy activists.
On Wednesday, Prime Minister David Cameron said the UK should defend the rights of the thousands of Hong Kong protesters on the streets of the former British Colony.
The comments came after footage surfaced online on Tuesday night of Hong Kong police cracking down on protesters, with officers beating activists.
Among other demands, Cameron urged Chinese authorities to respect freedom "of assembly."
However, in London an Occupy spokesperson described police actions as "absolutely crazy."
On Twitter, Occupy London said, "David Cameron supported HK pro-democracy protests but is intent on crushing them in the UK (with) violence."