Ayatollah Khamenei Lauds Maliki's Role in Preserving Iraq's Unity
November, 10, 2014 - 13:33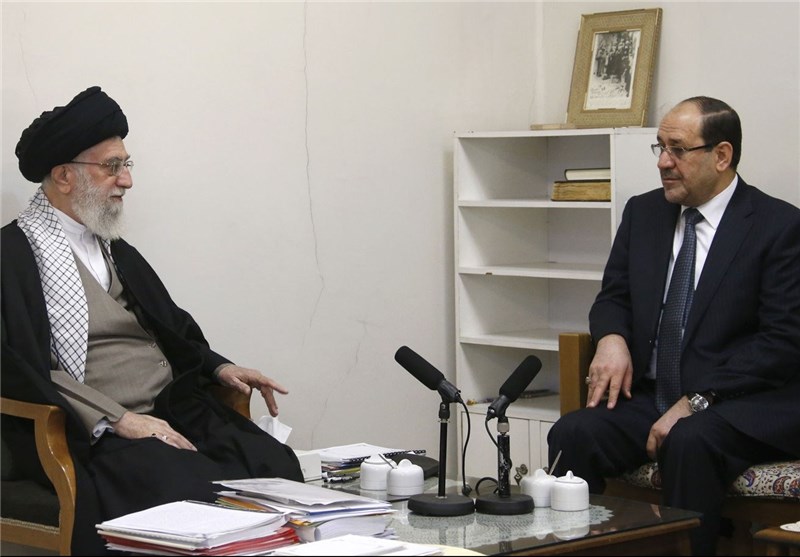 TEHRAN (Tasnim) – Supreme Leader of the Islamic Revolution Ayatollah Seyed Ali Khamenei commended Iraq's former prime minister, Nouri al-Maliki, for his decision to relinquish power, saying that the "great job" helped prevent instability in Iraq during power transition period.
In a meeting with Maliki here in Tehran on Monday, Ayatollah Khamenei praised courage, might and management shown by Maliki during his tenure as the Arab country's prime minister.
The Leader also praised Maliki for all his good work to safeguard Iraq's stability, independence and development.
"During the period of power transition in Iraq, you (Maliki) did a great job to prevent turmoil and instability in the country, and the move will never fade into oblivion in Iraq," Ayatollah Khamenei underlined.
The Supreme Leader also highlighted Maliki's good knowledge of the Arab country's problems, and noted, "Your approach to support Mr. Haider Al-Abadi's new administration and efforts to create unity among different Iraqi groups is a very good move that should be continued."
The visiting Iraqi vice-president, for his part, lauded the Islamic Republic as the country that has always offered the highest degree of assistance to the Iraqi nation and government in their confrontation with terrorists and foreign mercenaries.
In August, Maliki stepped down to make way for new Prime Minister Haidar al-Abadi in an effort to "safeguard the high interests of the country".
The Iraqi President Fouad Massoum on August 11 officially commissioned Abadi, the Shiite coalition's nominee for prime minister, to form a new government.