More Than 40 Bodies Retrieved in AirAsia Search: Indonesian Navy
TEHRAN (Tasnim) - An Indonesian warship recovered more than 40 bodies from the sea Tuesday in the search for the AirAsia jet, a navy spokesman told AFP.
December, 30, 2014 - 15:24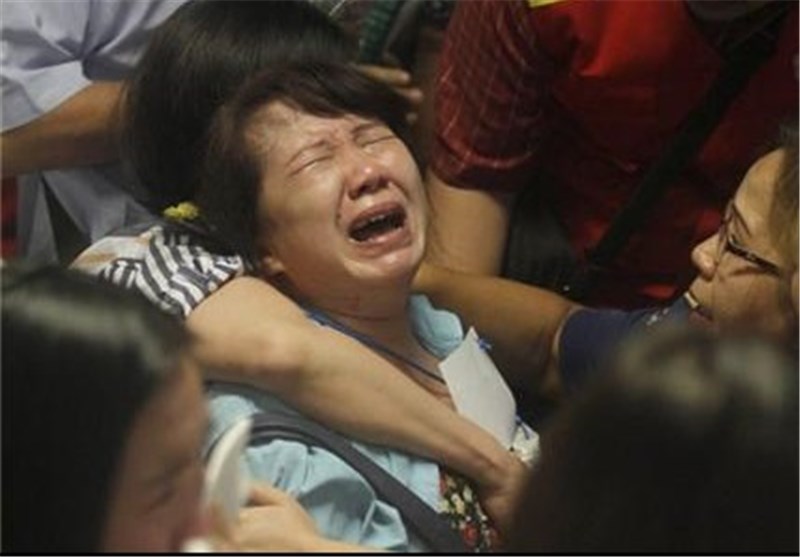 "Based on the navy radio, it has been reported that the warship Bung Tomo has retrieved 40 bodies and the number is growing. They are very busy now," Manahan Simorangkir said.
The bodies were found in the Java Sea off the Indonesian island of Borneo about 10 kilometers from the last communication from AirAsia Flight QZ8501 with traffic control.
Three bodies, swollen but intact, were recovered by an Indonesian navy ship, National Search and Rescue Director S. B. Supriyadi told reporters in the nearest town, Pangkalan Bun. The corpses did not have life jackets on.
The Airbus A320-200 vanished in poor weather on Sunday morning during a flight from the Indonesian city of Surabaya to Singapore. On board were 155 Indonesians, including the pilot, three South Koreans, and one person each from Singapore, Malaysia and Britain. The co-pilot was French.
Images on Indonesian TV showed a half-naked bloated body bobbing in the sea. Search and rescue teams were lowered on ropes from a hovering helicopter to retrieve corpses.
As family members of the plane's passengers sat together in a waiting room at the Surabaya airport, they watched the graphic details on television. Many screamed and wailed uncontrollably, breaking down into tears while a middle-aged man collapsed and was rushed from the room on a stretcher.
The bodies were recovered hours after pieces of red and white debris was spotted in the Java Sea on the third day of the search and rescue mission, which was expanded Tuesday.
"Based on the observation by search and rescue personnel, significant things have been found such as a passenger door and cargo door. It's in the sea, 100 miles (160 kilometres) southwest of Pangkalan Bun," said Indonesia's civil aviation chief Djoko Murjatmodjo, referring to the town in the province of Central Kalimantan, on Borneo.
An Indonesian navy spokesman said a plane door and oxygen tanks had been recovered and taken away by helicopter for tests.