Political Dialogue Must Continue between Iran, West: Italian Senator
January, 17, 2015 - 15:17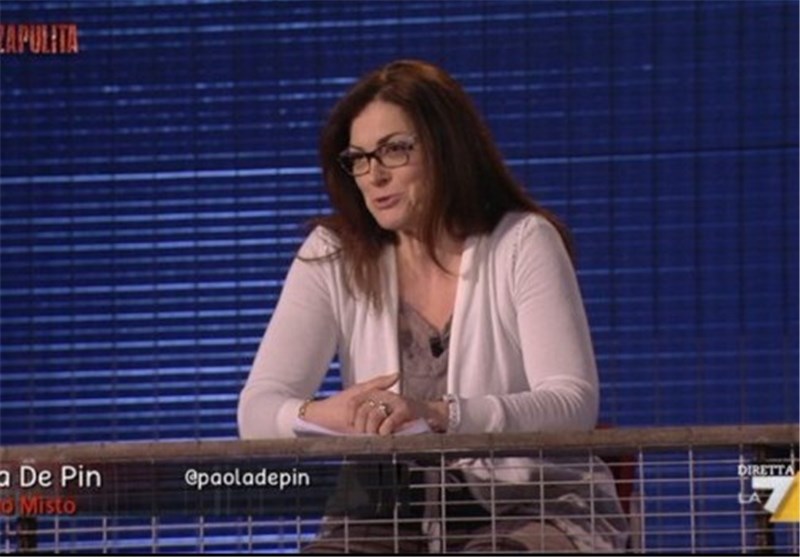 TEHRAN (Tasnim) – Italian Senator Paola De Pin hailed the opportunity provided for talks between Iran and world powers, and said that the political dialogue should go on.
"The opening made by President Rouhani is undoubtedly an opportunity that should not be lost," De Pin said in an interview with the Tasnim News Agency.
She further referred to the ties between Iran and Italy, and said that under Rouhani's government, the two countries can have more cooperation in many fields.
Italy's veteran President Giorgio Napolitano resigned on Wednesday, setting the stage for the election of a new head of state, a thorny process which could prove a political headache for Matteo Renzi's government.
Elsewhere in her remarks, De Pin pointed to the performance of the Italian Premier Matteo Renzi, and said that he failed to keep commitments after making many promises to Italians.
As regards the presidential election in her country, she said that "defense of Constitution" is the most prominent feature the next Italian president should enjoy.
Asked about best people to replace the resigned Italian President Giorgio Napolitano, De Pin pointed to Quirinale as "a person who defends democracy, public good and the rights of citizens".
An economist like Paolo Savona, an intellectual like Salvatore Settis, or a woman like Lorenza Carlassare were among other figures De Pin preferred to see as the new president.
She also rejected the possibility of Former Italian Premier Silvio Berlusconi's candidacy, and said that he is not qualified to take the office because of his conviction over tax fraud, which led to his fall from Senator's office.
After Napolitano's resignation, the Italian parliament has to meet within 15 days along with 58 regional deputies to begin elections to choose a new president. Potential candidates for the new head of state include former prime ministers Romano Prodi and Giuliano Amato, as well as Economy Minister Pier Carlo Padoan, Defense Minister Roberta Pinotti and former Rome mayor Walter Veltroni.