Niger Death Toll Rises after Cartoon Protests
TEHRAN (Tasnim) - The president of Niger said at least 10 people have been killed in two days of violent protests over a French publication's cartoon depicting Prophet Muhammad (PBUH).
January, 18, 2015 - 13:23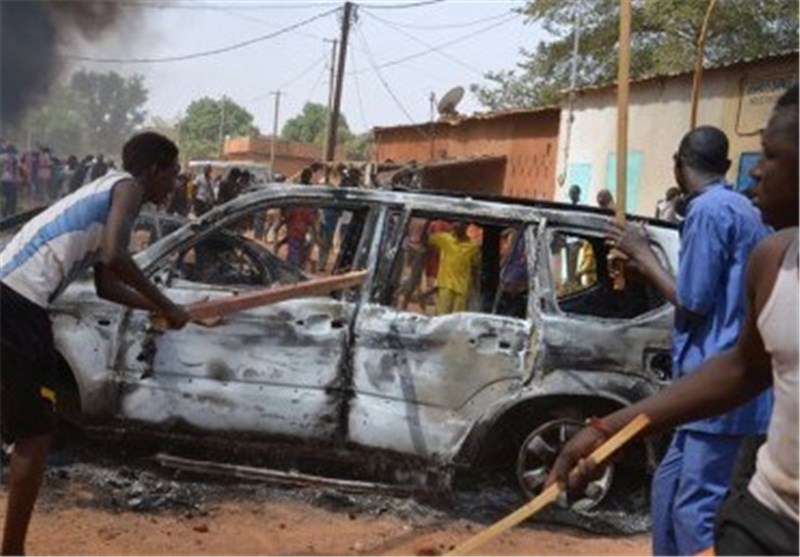 President Mahamadou Issoufou said that five people died after demonstrations in the capital city of Niamey on Saturday. The victims were inside churches and bars that were set ablaze, he said.
The deaths came after at least five people were killed in the town of Zinder on Friday after prayer services there.
The violence erupted after the French satirical weekly Charlie Hebdo published a new cartoon depicting the Prophet Muhammad. The issue, published on Wednesday, was the first following a January 7 attack on its headquarters that left 12 dead.
Police fired tear gas at crowds of stone-throwing youths who set fire to at least six churches and looted shops in Niamey on Saturday after authorities banned a meeting called by local Islamic leaders. A police station was attacked and at least two police cars burned.
Police sources told Reuters that two charred bodies were found inside a burned church on the outskirts of Niamey, while the body of a woman was found in a bar. She was believed to have been suffocated by tear gas and smoke, they said.
"They offended our Prophet Muhammad. That's what we didn't like," protester Amadou Abdoul Ouahab said.
"This is the reason why we have asked Muslims to come, so that we can explain this to them, but the state refused. That's why we're angry today."
In a warning to French citizens in Niger, the French embassy said on its website: "Be very cautious, avoid going out."
Demonstrations were also reported in regional towns, including Maradi, 600km east of Niamey, where two churches were burned. Another church and a residence of the foreign minister were burned in the eastern town of Goure.
On Friday, a police officer and three civilians were killed in demonstrations against Charlie Hebdo's cartoons in Niger's second largest city of Zinder.