IRGC Commander Vows No Halt to Fight until Israel's Elimination
January, 21, 2015 - 13:04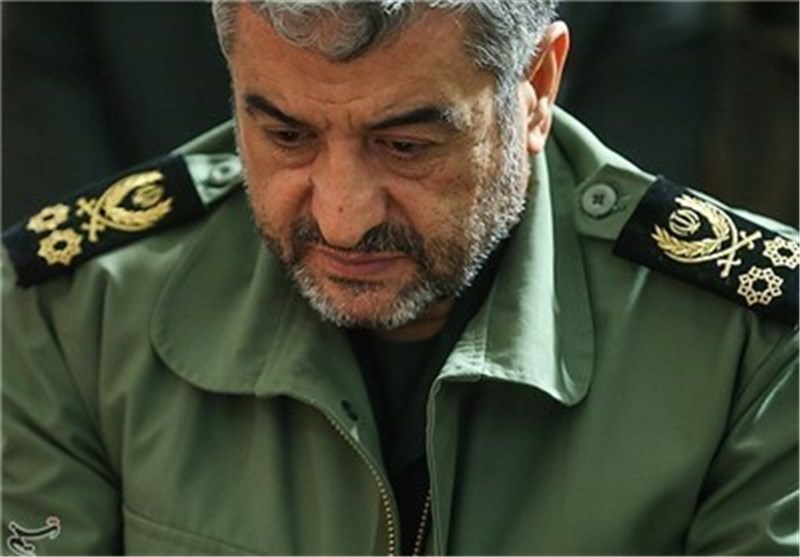 TEHRAN (Tasnim) - Commander of the Islamic Revolution Guards Corps Major General Mohammad Ali Jafari reaffirmed on Wednesday that the battle against the Zionist regime of Israel will remain firmly in place until that "disgraceful stain" on the Muslim-dominated region of the Middle East is removed.
Friends and foes get the message from martyrdom of Hezbollah forces and the IRGC general that the fight against Zionists would not be brought to a halt, Major General Jafari told reporters on the sidelines of funeral procession of Brigadier General Mohammad Ali Allahdadi, who was killed in an Israeli attack during an advisory mission in Syria.
Six Hezbollah members plus the Iranian commander were killed in the strike launched by an Israeli gunship helicopter near Syria's southwestern city of Quneitra on Sunday.
Elsewhere in his comments, the IRGC commander said the combination of the martyrs in the Israeli offensive illustrates "unity of the Islamic community" and "materialization of a major part of the perfect goals of the Islamic Revolution."
The incident also heralds victory for al-Quds, the commander added.
Hezbollah announced after the Sunday attack that Jihad Mughniyeh, the son of Hezbollah's slain top military commander, Imad Mughniyeh, and a field commander were among the casualties.
Hezbollah has been involved in the Syrian government's battle against the ISIL terrorists since 2012, in an effort to prevent violence spillover into Lebanon.
The Tel Aviv regime has carried out several airstrikes in Syria since the start of the nearly four-year-old foreign-backed militancy there. The Zionist regime is also blamed for backing the insurgents fighting against the Syrian government.