Rival Rallies Staged in Fractious Yemen
TEHRAN (Tasnim) - Rival rallies swept across Yemen a day after President Abd Rabbu Mansour Hadi stepped down rather than bow to the demands of Houthis who wanted more power in the country.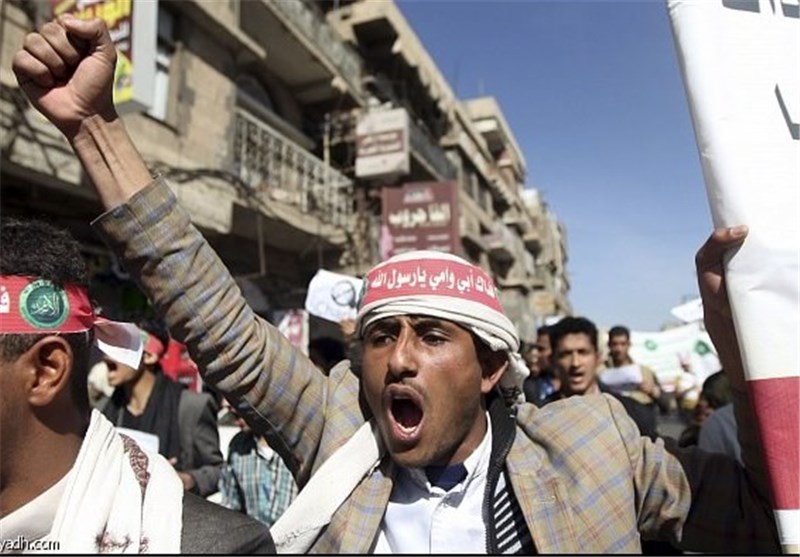 Thousands of people gathered in central Sana'a on Friday in support of the Houthis, chanting "Death to America, Death to Israel".
The pro-Houthi protesters say Yemenis need to stay united, otherwise enemies could attack, exploit and steal the country's resources.
There were also several rallies held across the country, in cities like Aden, Taiz, Ibb and Houdida, against the Houthi fighters, with people accusing the group of staging a coup.
Demonstrators threatened to close ports, and warned local governments not to follow any orders from the capital Sana'a.
With thousands of demonstrators on both sides taking to the streets across the impoverished Arab country, the Houthis appeared wary of the dangers of overstepping the mark in Yemen's minefield of tribal politics, sectarian divisions, al-Qaeda influence and a strong secessionist movement in the southern regions.
Although Houthi gunmen manned checkpoints throughout the capital and continued besieging the houses of government ministers, they made no public attempt to fill the vacuum created by the resignations of President Hadi, his prime minister and the cabinet, Al Jazeera reported.
And there were signs that the national parliament would reject the resignations when it meets on Sunday.
In his latest speech, Houthi leader Abdel-Malek al-Houthi vowed to keep up the pressure until the government meets all his demands, including greater representation in government ministries and in a committee to rewrite the country's constitution. He stressed his group's opposition to dividing the country into six regions - a measure in the draft constitution that would diminish the resources under the Houthis' control.