Abe Vows to Use All Available Means to Free Remaining Hostage
TEHRAN (Tasnim) - Japanese Prime Minister Shinzo Abe reiterated his assurance Monday that Japan would use all available means to secure the safe release of Kenji Goto, a war journalist, still held captive by the Islamic State in Iraq and the Levant (ISIL) militants.
January, 26, 2015 - 18:06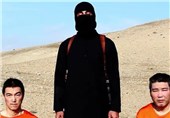 In a meeting of his Liberal Democratic Party (LDP) lawmakers earlier in the day, Abe said that Japan would cooperate with the necessary countries in a bid to win Goto's release.
"We will use all possible means to win his release by seeking cooperation with other countries," the prime minister said, echoing the words of his top spokesman, Chief Cabinet Secretary Yoshihide Suga, who told an earlier news conference that Japan would use "every channel available" to secure Goto's safe release.
Monday's pledges follow a video released by ISIL purportedly showing Goto holding the decapitated corpse of Yukawa. The government here has confirmed that the video was "highly likely" to be credible.
An accompanying soundtrack, believed to be Goto's voice, pleads in English for his life and begs for the release of an Iraqi woman, Sajida al-Rishawi, who is being held on death row in a Jordanian prison for her part in the terror attacks on three hotels in Amman in 2005, Xinhua reported.
The ISIL militant group's Internet radio service Al- Bayan said Sunday in Arabic that the group has killed one of the two Japanese hostages as per a previous warning issued to Japan.
In a video posted to the popular video-hosting site YouTube on Tuesday, an ISIL militant initially demanded Japan pay 200 million U. S. dollars for the release of both hostages within 72-hours. The amount demanded by the group was the same as that pledged by Abe in a speech given when the Japanese leader was in Cairo as part of a Middle East tour, which was cut short as the hostage crisis evolved.
During the speech, Abe said that Japan would support global anti-Islamic State efforts and contribute to the countries involved in the campaign. The prime minister also said Japan would provide support to Iraqi and Syrian refugees.
Following the first video being posted online, the Japanese government had been desperately looking into all and every possible channels available to it, to conduct dialogue with the ISIL militants on the possible release of its two citizens, particularly through connections it has in Jordan, where Japan has set up its emergency headquarters to conduct operations from, including contacting local tribes and religious leaders in the area for assistance.
Abe and a group of his senior advisers spoke to King Abdullah II of Jordan by phone on Saturday, the Foreign Ministry here confirmed, with the prime minister reconfirming on a TV program that human life remained the "top priority."
"We are consulting closely with Jordan from the viewpoint that human life is the top priority," Abe told the public broadcaster NHK on Sunday, while maintaining his stance that such an act of terrorism is "outrageous and impermissible" and has caused him nothing but "strong indignation."
But the killing of Yukawa, a self-styled security contractor from Chiba Prefecture, according to security analysts close to the mater, is evidence that Japan either failed to make contact with the militant group following the first ransom demand, or its negotiating parameters were either too narrow or not acceptable to ISIL.
Despite the original 72-hour deadline having passed, the analysts said there is still a chance of the second hostage's safe release, as the demands have changed.