Indonesia Signals Unlikely to Carry Out Executions for at Least 16 Days
TEHRAN (Tasnim) – Indonesia signaled on Thursday that it was not likely to execute foreigners on death row for at least the next 16 days after the attorney general's office said that a group of 10 convicts would be executed together.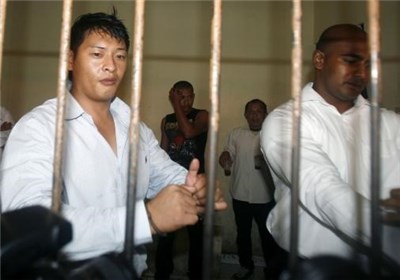 The 10 people convicted of drugs offences have mostly been transferred to the prison island of Nusakambangan for execution by firing squad. They include citizens of Australia, France, Brazil, the Philippines, Ghana, Nigeria and Indonesia.
On Thursday, an appeal by two Australians in the group against the rejection of a clemency request by the president was postponed until March 19. A decision on a separate court appeal by a French convict was postponed on Wednesday until March 25.
"There has been no change of plans from the AGO that all executions will be all at once," the attorney general's spokesman Tony Spontana told reporters, adding that sentences would not be carried out until "everything is clear".
However, Spontana added later than an option of carrying out the executions in smaller groups was still being discussed by officials but no decision had been made.
If the appeals are rejected, the government will still have to give 72 hours' notice before it carries out the executions, Reuters reported.
Australia has been pursuing an eleventh-hour campaign to save the lives of its citizens Myuran Sukumaran, 33, and Andrew Chan, 31, convicted in 2005 as the ringleaders of a plot to smuggle heroin out of Indonesia.
Australia's campaign and repeated pleas for mercy have helped ramp up diplomatic tensions with Indonesia.
Indonesia has harsh penalties for drug trafficking and resumed executions in 2013 after a five-year gap. Five foreigners were among six people executed last month, the first executions since President Joko Widodo took office in October.