Leader Reiterates Iran's Strong Opposition to Foreign Meddling in Region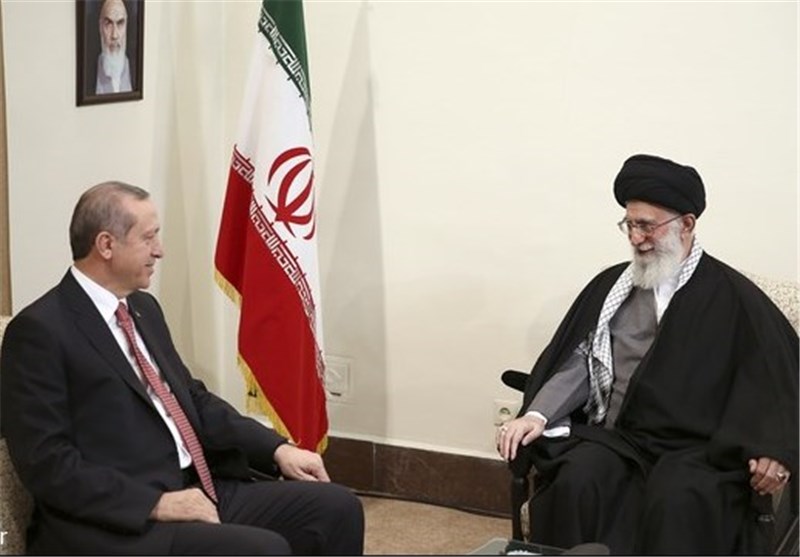 TEHRAN (Tasnim) – Supreme Leader of the Islamic Revolution Ayatollah Seyed Ali Khamenei underlined Tehran's steadfast opposition to any foreign meddling in region, Yemen in particular.
"The opposition to foreign intervention constitutes the Islamic Republic's stance on all countries, including Yemen," Ayatollah Khamenei said in a meeting with the visiting Turkish president, Recep Tayyip Erdogan, in Tehran on Tuesday.
"Therefore" Imam Khamenei stated "we believe that the solution to the Yemeni crisis lies in an end to foreign intervention and attack on the country's people."
The Leader further reiterated that the Yemeni people should decide their future.
On March 26, Saudi Arabia and some of its Arab allies began to militarily interfere in Yemen's internal affairs by launching deadly air strikes against the Houthi Ansarullah movement in an attempt to restore power to fugitive Yemeni President Abd Rabbuh Mansur Hadi, a close ally of Riyadh.
The Saudi-led coalition, including military forces from Qatar, the United Arab Emirates (UAE), Kuwait, Egypt, Sudan, Bahrain, Morocco, Jordan, and Egypt, has killed hundreds of civilians so far.
International agencies have expressed growing alarm over rising civilian casualties in Yemen
Elsewhere in the meeting, Ayatollah Khamenei said the existing "general Islamic Awakening" is a source of concern for enemies of Islam and cautioned Muslim nations about enemies' plot to confront the awakening movement.
The Leader said the US and Zionists are happy today about the internal rift among Muslim countries, and called on the Islamic states to "boost cooperation and take proper and constructive practical measures" to resolve these differences.
Imam Khamenei then highlighted the common interests in Iran-Turkey close relations, and said Tehran is seeking to strengthen Islamic states and the close ties between the two neighboring countries will be in line with the Islamic Republic's policy.
The Leader further pointed to the regional developments and the brutalities committed by the Islamic State in Iraq and the Levant (ISIL) terrorist group and said Zionists and the US is happy about the events and do not want to end problem created by ISIL.