Indonesia Executes Drug Traffickers, Sparks Anger from Australia, Brazil
TEHRAN (Tasnim) - An Indonesian firing squad executed eight drug traffickers, including seven foreigners, in the early hours of Wednesday, sparking condemnation from Australia and Brazil who had made final, desperate pleas to save their nationals.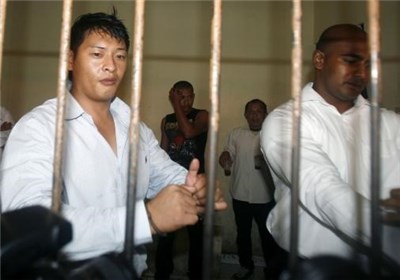 The mass execution cements the hard line on enforcing the death penalty adopted by Indonesian President Joko Widodo as part of his war on drugs, an approach criticized by the United Nations as applying double-standards.
Four Nigerians, two Australians, a Brazilian and an Indonesian were executed in a forest clearing near the prison, as family members held a candle-light vigil within earshot of the firing range, Reuters reported.
"All eight were executed at the same second at 0035 hours," Indonesian Attorney General H.M. Prasetyo told reporters in Calicap, off the prison island of Nusakambangan in Central Java.
One prisoner was spared at the last minute. Philippines housemaid Mary Jane Veloso, who was arrested in 2010 after she arrived in Indonesia with 2.6 kg of heroin, was withdrawn from the group after a request from Manila. The Indonesian Attorney General's Office said Veloso would be permitted to give evidence after a woman suspected of planting the drugs gave herself up to police in the Philippines on Tuesday.
Both Australia and Brazil oppose capital punishment and have railed against Widodo's move to step up the pace of executions, after a five-year moratorium, since coming to office last July.
Australia said it was recalling its ambassador to Jakarta, a step already taken by Brazil over the execution of another prisoner in January. The south American country is now considering what further action it will take.
Indonesia shrugged off Australia's diplomatic response. "It is just for a while, a month or two, to signify protest," Vice President Jusuf Kalla told reporters.
Australia has deep commercial and political ties with its big neighbor, but has said the executions would not impact trade relations. Brazil, too, will be wary of jeopardizing valuable defense contracts.