No Place for Terrorists along Lebanese Borders: Nasrallah
TEHRAN (Tasnim) - Hezbollah will not allow a single terrorist to remain on the outskirts of Lebanon's northeastern border town of Arsal, Lebanese Resistance Movement Chief Seyed Hassan Nasrallah said Sunday, vowing to push on with the Qalamoun offensive until the frontier with Syria is secure.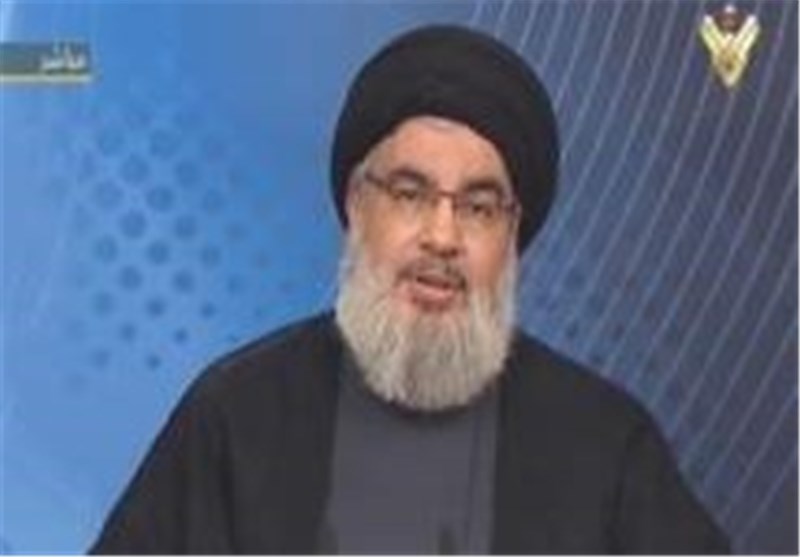 Ignoring calls by his political rivals to steer clear of the volatile village and its outskirts, where large numbers of Nusra and ISIL fighters have taken foothold, Nasrallah said that all sects in Lebanon remained in danger as long as the jihadis had access to the country.
"We will not accept remnants of any terrorist or jihadi on the outskirts of Arsal or any outskirts in the Bekaa Valley," Nasrallah said in a televised speech marking the 15th anniversary of Israel's withdrawal from south Lebanon.
Nasrallah issued a similar message one week ago, promising to liberate Arsal's outskirts from the extremists if the Lebanese state failed to do so, Daily Star reported.
The call was immediately met with fury by rival politicians who accused Hezbollah of seeking to dominate the area and drag the Lebanese army into conflict. Some warned that any move by Hezbollah against groups around Arsal, which is predominately Sunni, would inflame sectarian tensions.
But Nasrallah dismissed those accusations, saying he was simply calling on the Army to "defend your land, people and sovereignty, and to face your responsibilities, not run away from them."
He recalled the period in 2013 and 2014 when car bombs were rigged in Syria's Qalamoun region and passed through Arsal to target Shiite neighborhoods across Lebanon, saying even then Hezbollah was against the mistreatment of Arsal's residents.
"When our flesh and blood were being torn in Hermel, Nabi Othman, and Beirut's southern suburbs, we said the people of Arsal are our people and are a part of our social fabric. We did not accept that anyone treats them irresponsibly," Nasrallah said.
He warned that jihadi groups like ISIL and the Nusra Front did not distinguish between any minorities, including Sunnis, warning the Future Movement that its leaders and supporters would be the first victims of the jihadis should they take over Lebanon.
For this purpose the offensive launched nearly three weeks ago in Syria's border Qalamoun region would persist until it is free of jihadis.