Iran, Greece Eye Closer Economic Ties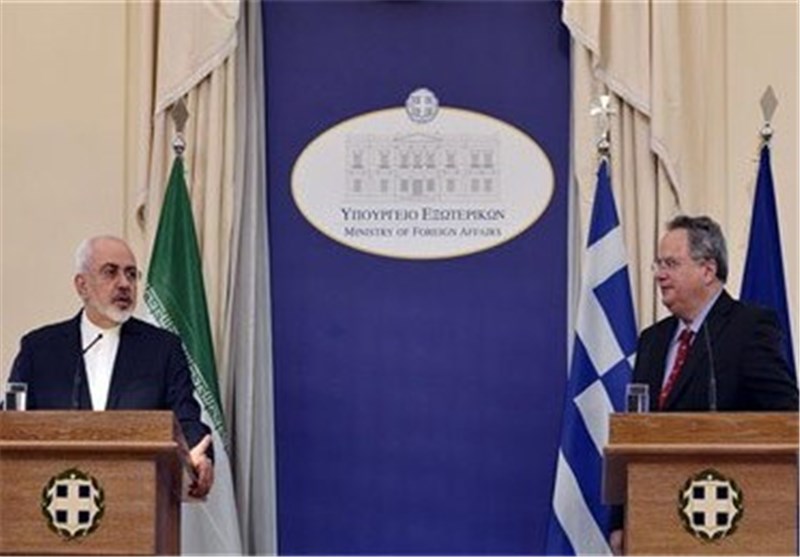 TEHRAN (Tasnim) – Iranian and Greek foreign ministers in a meeting in Athens stressed the need for expansion of economic relations between the two countries by stimulating bilateral trade in diverse fields.
During the Thursday meeting, Iran's Foreign Minister Mohammad Javad Zarif and his Greek counterpart Nikos Kotzias discussed the ways to forge closer ties in trade, energy, tourism, agriculture and industry, as well as establishment of a direct flight route between Tehran and Athens.
Though hailing the "good" level of political relations, Zarif denounced a decline in economic ties between the two countries in recent years under "foreign pressure and sanctions", and called for consultations to overcome those challenges.
For his part, Kotzias expressed Greece's determination to enhance ties with Iran on economy, tourism, energy, agriculture and culture.
He also pledged efforts to use his country's position in the European Union to remove the obstacles in the way of Iran-EU cooperation.
Later in the day, Zarif also met with Greek Parliament Speaker Zoi Konstantopoulou.
Iran and Greece, known as popular tourist destinations for their rich histories, seem more willing to strengthen ties after Iranian President Hassan Rouhani took office in August 2013.
In April, when submitting his credentials to President Rouhani, Greece's new ambassador to Iran George Aifantis hailed Iran as an independent and influential country in the Middle East and Asia, saying Athens wants to be Tehran's "strategic friend" and partner.