Migrants Protest as Hungary Closes Main Station to Northern Europe
TEHRAN (Tasnim) – Hungarian authorities on Tuesday cleared hundreds of people from the country's main international railway station, prompting noisy protests by migrants who have crowded the building in a push to get to Austria and Germany.
September, 01, 2015 - 18:13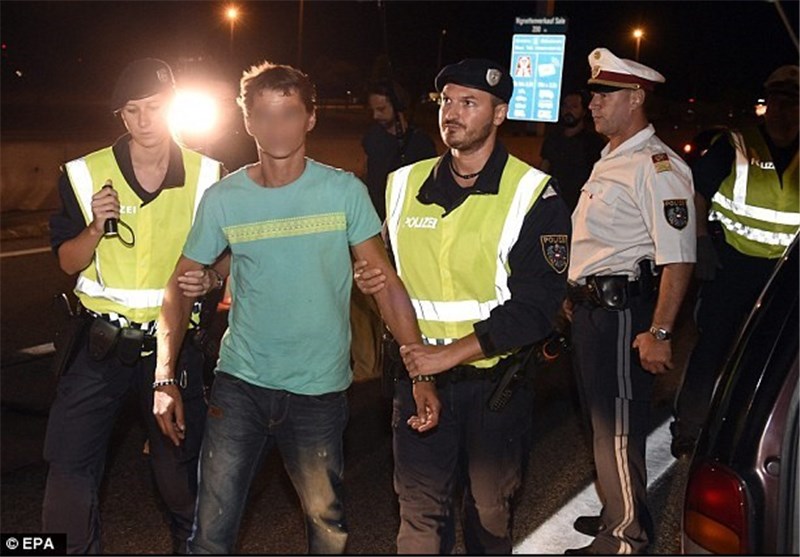 Police cordoned off Keleti train station in Budapest and all services were temporarily suspended. Migrants, surrounded by heavy security, clustered in a packed passageway leading to a local subway station, some shouting "Germany! Germany!", The Wall Street Journal reported.
Austria, the migrants' next stop on their way to Germany—where many migrants hope to seek asylum—has sharply criticized Hungary's handling of the crisis after Budapest alternated between preventing the migrants from traveling and indiscriminately allowing them to board trains. On Monday, officials in Budapest abruptly lifted rules barring migrants from traveling further into the European Union without visas.
The tide of desperate arrivals from the Middle East and Africa has put particular pressure on the bloc's border states, and Hungary argues it is too overwhelmed to follow the usual protocols for registration and fingerprinting of asylum seekers.
European Commission President Jean-Claude Juncker will meet on Thursday with Hungary's Prime Minister Viktor Orban, the EU said.
The leaders of Spain and Germany called on European countries to work more closely together toward establishing a common asylum and migration policy to help resolve the crisis.
German Chancellor Angela Merkel and Spanish Prime Minister Mariano Rajoy said they both agreed that a fair distribution of migrants is needed across the EU as a first step toward harmonizing rules about migration and asylum seekers.
"Europe is facing its biggest challenge. We have to agree. We can't just accept this human tragedy," Mr. Rajoy said at a joint news conference with Ms. Merkel in Berlin.
Hungary has tried to prevent refugees from traveling onward without valid visas for Europe's Schengen area of 26 countries, where internal borders aren't patrolled on a regular basis. But it reversed course on Monday, unexpectedly allowing refugees to board trains headed for Vienna and Munich, which were then stopped at the border with by Austrian railways due to overcrowding. Some passengers were told to get off the train.
Austrian Chancellor Werner Faymann criticized Hungary's decision to allow migrants to travel to his country.
"That they simply board [trains] in Budapest…and one lets them travel to the neighbor, that is not a policy," Mr. Faymann said in an interview broadcast late Monday by ORF television.
Many of them travel further on to Germany. About 1,100 to 1,200 migrants have arrived in Munich at the central train station since Monday, said a police spokesman. They are now being registered and brought to reception centers, he said.
On Tuesday, migrants at Keleti station were kept away from the general public and police closed off the main entrance. Authorities eventually allowed other passengers to use side doors and traffic resumed, although the disruption caused delays and cancellations, said Hungary's railway operator MAV.
Hungary this week completed building a fence on its border with non-EU member Serbia, through which many migrants travel. The Hungarian parliament's defense committee was meeting on Tuesday to discuss the deployment of the army to the border. Lawmakers are set to approve a bill on Friday authorizing the deployment.
Hungarian police said they had stepped up vehicle and passenger control in a number of Budapest districts, including the one where the Keleti station is located. While not mentioning migrants specifically, the police said they sought to maintain public order and reduce crime.
Hungary has registered 145,000 asylum seekers so far this year, according to the defense committee.
Efforts by Hungary and Austria to stem the flow of migrants came days after a truck was found at an Austrian highway near Hungarian border with decomposing bodies of 71 refugees.