Iran's President Slams Instrumental Use of Terrorism
TEHRAN (Tasnim) – Iranian President Hassan Rouhani on Monday referred to the instrumental use of violence and terrorism as a problem with regional and global repercussions.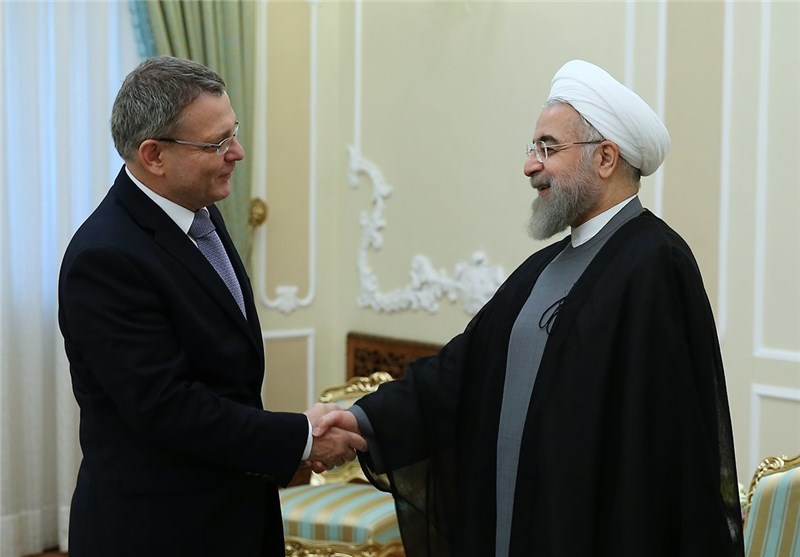 "Identifying the roots of terrorism requires that all countries admit the fact that terrorist groups are not a good means of achieving one's goals," Rouhani said in a meeting with visiting Czech Foreign Minister Lubomir Zaoralek here in Tehran.
Certain states' meddling in the domestic affairs of other countries and the instrumental view of violence and terrorism are the two problems that have regional as well as global consequences, he stressed.
The Iranian president also pointed to the interconnectedness of developments in today's world, and called on the international community to cooperate against such problems as terrorism and its repercussions.
He further warned that regional problems in the contemporary era do not remain in the region and their consequences immediately emerge in other parts of the world.
The displacement of innocent people is one of the natural and immediate repercussions of such problems, Rouhani noted, referring to the ongoing migrant crisis in Europe, where thousands of Syrian refugees escaping from war and poverty in the Middle East are seeking asylum.
Rouhani highlighted Tehran's experiences in fighting terrorist groups as well as hosting regional countries' refugees, and noted that Iran once accommodated millions of asylum-seekers despite its economic problems.
Zaoralek, for his part, hailed Tehran's role in the resolution of regional and global issues, saying without Iran's presence, it is not possible to achieve a political solution to the issues of terrorism and refugees.
He also expressed Prague's willingness to cooperate with Iran on regional issues, and urged all countries in the world to oppose violence, terror, and intimidation.
Earlier in a Sunday meeting with new Hungarian Ambassador to Iran Janos Kovacs, Rouhani had called on European countries to fulfill their humanitarian duty and adopt a positive approach towards the Middle Eastern refugees escaping the war-hit region.
Given the difficulties and predicaments these displaced refugees are facing, it is necessary that governments, especially in Europe, help them as a global humanitarian duty, Rouhani stressed.