Iran's FM Urges End to Foreign Meddling in Syria
September, 07, 2015 - 17:02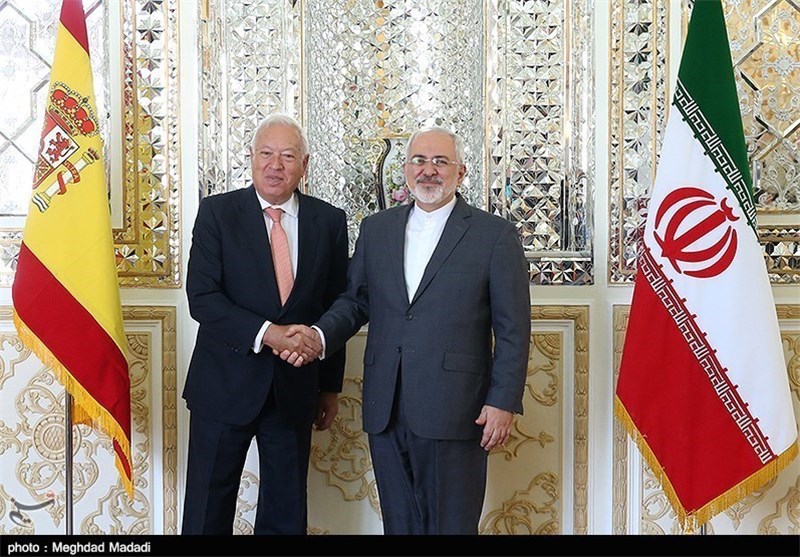 TEHRAN (Tasnim) – Iranian Foreign Minister Mohammad Javad Zarif on Monday slammed certain foreign states for interfering in Syria's domestic affairs, saying those countries are to blame for the bloodshed in the Arab country.
"Those who set preconditions about the Syrian president in the past two or three years caused the war to continue in Syria," Zarif said in a joint press conference with his Spanish counterpart Jose Manuel Garcia-Margallo here in Tehran Monday.
They are responsible for the bloodshed in the Arab country because they made the decision that the Syrian people were supposed to make, Zarif added, deploring certain foreign countries for imposing their decision on the Syrian nation.
He went on to say that they should stop their selfishness as soon as possible and leave it to the Syrian people to decide for their country.
They should not pursue their own interests at the expense of the Syrian nation, the Iranian minister said, urging that they should let the Arab country return to stability and help stop the refugee crisis.
He once again reiterated Tehran's belief that the Syrian problem should be settled through political solutions, and that there is no military solution for the crisis.
Syria has been gripped by civil war since March 2011. In the past four years, more than 200,000 people have died in Syria – overwhelmingly civilians – and around 4 million Syrian people are now refugees in other countries. Another 7.6 million are displaced inside Syria.
These refugees are now flocking to European countries in a bid to escape the war and poverty in the Middle East. The massive immigration has caused a serious refugee crisis in the continent, where numerous states are not yet sure whether to host the huge Syrian population or not.