Practical Measures Needed, Leader Says of Europeans' Keenness for Ties with Iran
TEHRAN (Tasnim) – Supreme Leader of the Islamic Revolution Ayatollah Seyed Ali Khamenei said Iran waits to see the practical outcomes of comments by some European governments on the future of relations with Tehran.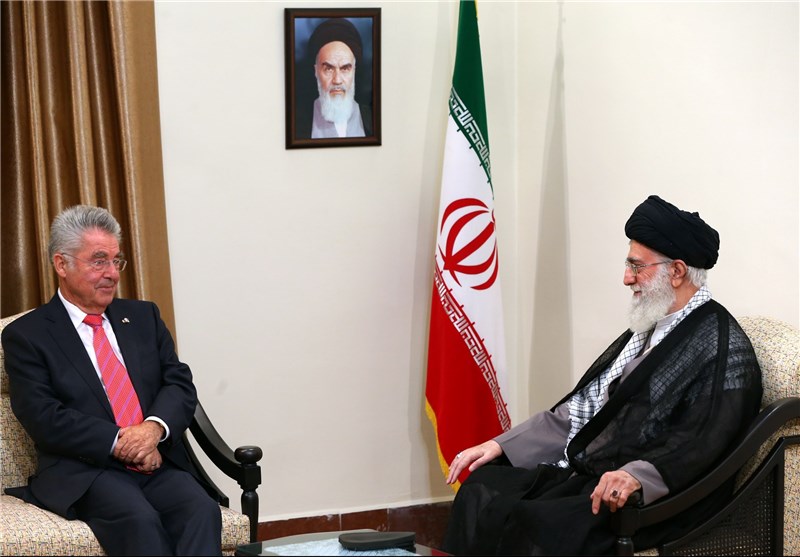 "So far, certain remarks have been made by some European governments, but one should wait and see the practical effects of these remarks," Ayatollah Khamenei said on Tuesday.
The Leader made the comments in a meeting with visiting Austrian President Heinz Fischer in Tehran, in reply to Fischer's question about the future prospect of relations between Iran and European countries.
Elsewhere in the meeting, Imam Khamenei lashed out at certain European states for following the US hostile attitude towards Iran in an "irrational" manner, but noted that Austria is not one of them.
"The Islamic Revolution took Iran, which was fully under control of the Americans, from the Americans and this is the reason behind US's enmity towards the Islamic Republic. However, certain European countries' following the US is irrational and groundless," the Leader stated.
Austria, of course, is not one of those countries, Ayatollah Khamenei stressed.
The Leader also urged efforts by the two countries' officials to plan and pursue an expansion of Tehran-Vienna relations.
The Austrian president, for his part, said he held good talks with the Iranian officials during his visit.
Fischer said the two countries should work more on issues of mutual interest to reach more agreements.
Heading a high-ranking delegation of Austria's economic, scientific and cultural officials, Fischer arrived in the Iranian capital of Tehran on Monday afternoon for an official three-day visit.
He is the first head of a western state visiting Iran for many years.