Task Force on Resistance Economy Planned: Iran's President
TEHRAN (Tasnim) – Iranian President Hassan Rouhani announced that his administration plans to establish a task force on Resistance Economy, a term referring to strategies for turning threats into opportunities and paving the way for the country's economy to grow.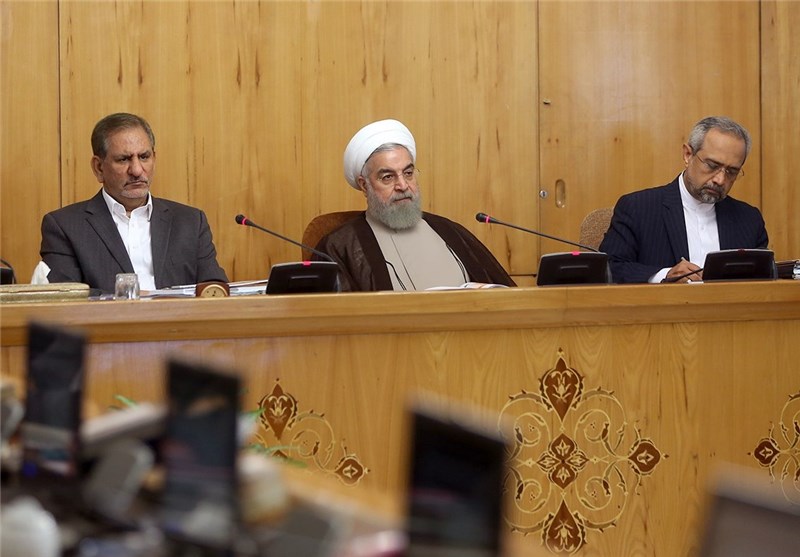 Speaking in a cabinet meeting on Wednesday, President Rouhani pointed to a recent nuclear deal with six world powers, saying that the grounds have been prepared for the presence of foreign investors and entrepreneurs in Iran, and that the economic conditions of the country will change.
"The administration's decision is to strengthen the Resistance Economy," he said, adding, "In the near future, a task force on Resistance Economy chaired by the first vice-president will be formed and the administration will approve its frameworks."
The Iranian president further called on all officials to contribute to the implementation of the policies of the Resistance Economy.
Back in 2014, Supreme Leader of the Islamic Revolution Ayatollah Seyed Ali Khamenei in a proclamation outlined a series of general policies to boost Iran's economy and lower its vulnerabilities.
The proclamation, laying out a grand plan for Resistance Economy in Iran, was issued after consultations with the country's Expediency Council and based upon the Clause 1 of Article 110 of the Iranian Constitution.
The leader also described Resistance Economy as a dynamic and long-term strategy that can help Iran realize its economic objectives.
Iran and the Group 5+1 (Russia, China, the US, Britain, France and Germany) on July 14 reached a conclusion on a lasting nuclear agreement that would terminate all sanctions imposed on Tehran over its nuclear energy program after coming into force.
The promising prospect of trade with Iran has prompted major European countries to explore the market potential in the populous Middle East nation.