Ayatollah Khamenei: US Evil Policies, Israeli Crimes, Muslims' Main Worries
September, 23, 2015 - 12:03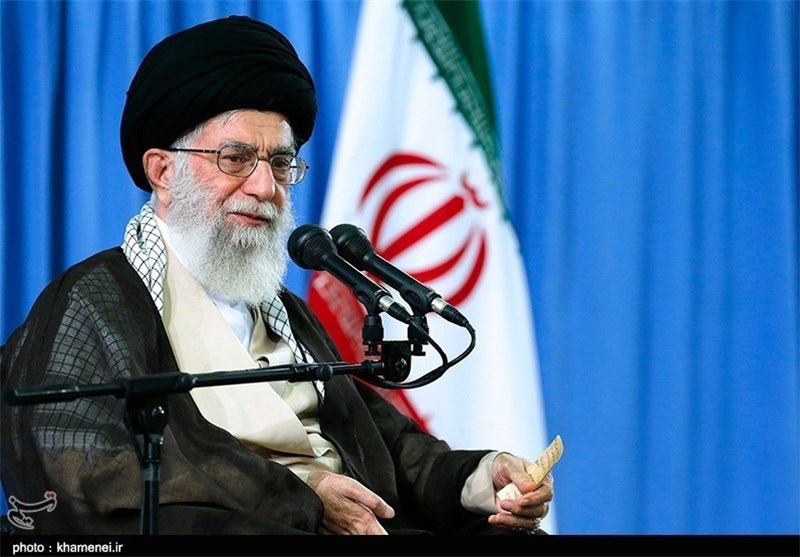 TEHRAN (Tasnim) – Supreme Leader of the Islamic Revolution Ayatollah Seyed Ali Khamenei said the crux of the matter for Muslims is the US vicious policies towards the Middle East as well as the Israeli regime's atrocities against Palestinians and frequent desecration of Al-Aqsa Mosque.
"Today, the US malicious policies in this region (West Asia and North Africa) - which have caused wars, bloodshed, destruction, displacement, poverty, underdevelopment and ethnic and sectarian rifts - in addition to the Zionist regime's crimes… and its frequent desecration of Al-Aqsa Mosque and trampling over the lives and properties of the oppressed Palestinians, is the main problem of you Muslims," Ayatollah Khamenei said in a message to the Hajj Congress on Wednesday.
The Leader also urged the Muslim clerics and political, cultural elites not to neglect their responsibility to deal with those main problems.
Imam Khamenei stressed that the tragic events in Iraq, Syria, Yemen, Bahrain, the West Bank and Gaza, and some other countries in Asia and Africa emanate from the plots hatched by the global arrogance.
The Leader then urged the Muslim nations to ask their respective governments to exercise their responsibility to address those problems.
The Hajj pilgrimage and its magnificent gatherings provide the best opportunity for Muslims to exercise their "historic responsibility" about the Islamic world's problems, the Leader noted.
Making a reference to a recent collapse of a crane in Mecca that claimed scores of lives, Ayatollah Khamenei said those in charge of ensuring safety of the Hajj pilgrimage should not shirk responsibility and should honor their commitments.
On September 11, a large construction crane toppled over during a rainstorm and crashed into Mecca's Masjid al-Haram (the Grand Mosque), killing more than 100 pilgrims and wounding many others.
Hajj is an Islamic pilgrimage to Mecca and the largest gathering of Muslim people in the world every year. The pilgrimage occurs in Dhu al-Hijjah, the last month of the Islamic calendar.
This year's annual pilgrimage is expected to have brought 2 million people to Mecca.