General Hamedani Martyred by US, Israel's Mercenaries: IRGC Commander
October, 09, 2015 - 18:49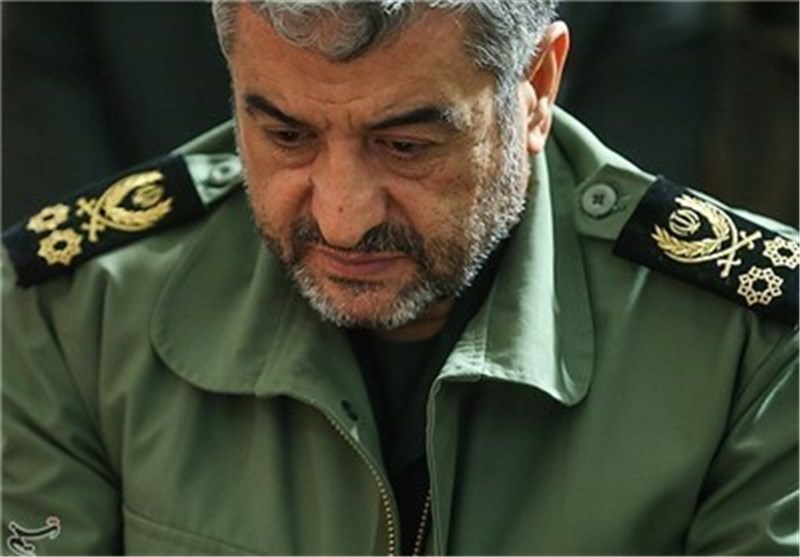 TEHRAN (Tasnim) – IRGC commander expressed his condolences on the martyrdom of senior Iranian officer Hossein Hamedani while in an advisory mission in Syria, saying the commander was martyred by the mercenary terrorists sponsored by the US and the Zionist regime of Israel.
In a message on Friday, IRGC Commander Major General Mohammad Ali Jafari praised the deceased for his role in the Islamic resistance to the US and Israel.
Hamedani was ultimately martyred by the mercenaries affiliated with the US and Zionists, namely the terrorists who have been armed by the hegemonic system's allies, including Saudis, and have afflicted the Muslim people of Yemen, Iraq, Syria and Bahrain, he added.
Major General Jafari stressed that Hamedani's martyrdom brought glory to the Islamic world and reminded the enemies that the trend of resistance, the fight against Zionists and countering the US infiltration into the Islamic territories will vigorously continue.

Brigadier General Hamedani was martyred Thursday evening by the ISIL terrorists on the outskirts of the Syrian city of Aleppo.
A one-time commander during the 8-year Iraqi imposed war on Iran in the 1980s, Brigadier General Hamedani was a senior military advisor that played a "decisive role in the protection of the holy shrine of Sayyida Zeinab (AS)" against terrorist attacks, the IRGC said in a statement.
The shrine of Sayyida Zeinab, a sister of the third Shiite Imam (AS), is located in Damascus.
The IRGC statement also highlighted Brigadier General Hamedani's role in strengthening the Islamic resistance front in the fight on terrorists in Syria.