Ayatollah Khamenei: No Letup in US Enmity against Iran
TEHRAN (Tasnim) – There has been no slackening off in US hostility towards Iran, Supreme Leader of the Islamic Revolution Ayatollah Seyed Ali Khamenei said, stressing that the Islamic Republic's struggle against the arrogance and the nations' 'death to America' slogan are backed by logic and reason.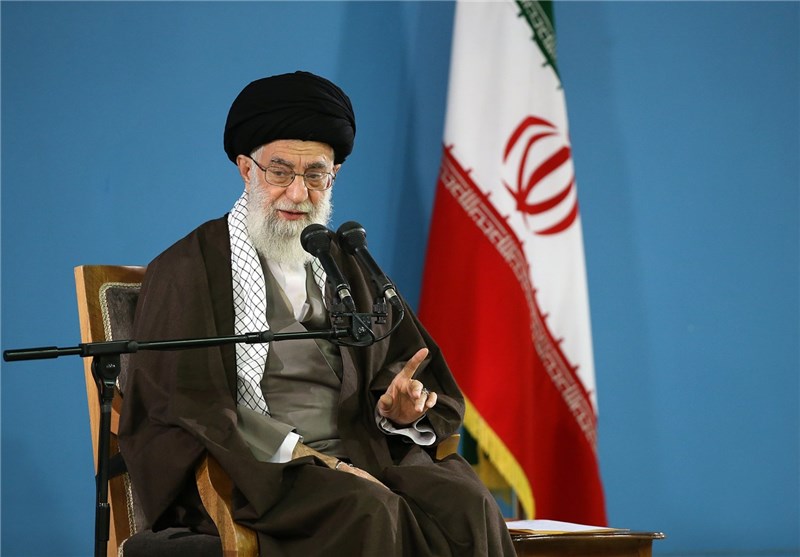 Addressing a big crowd of Iranian students in Tehran on Tuesday, Ayatollah Khamenei stressed that the US antagonistic attitude towards Iran has not changed a bit, but there are attempts to whitewash the issue.
"In recent years, some have attempted, either deliberately ... or naively, to overlook the (Iranian) nation's repeated experience (of US hostility), to portray a whitewashed image of the US and to pretend that if the Americans used to be an enemy of Iran one day, they have now stopped plotting (against Iran)," the Leader warned.
The purpose of these attempts, Imam Khamenei cautioned, is to cover up the true color of the enemy, so that the US could continue hostility in disguise and take the time to stab Iran in the back at a proper moment.
"The fact is that there has been no change in the US objectives about the Islamic Republic of Iran, and if they (Americans) were able to destroy the Islamic Republic, they would not hesitate a moment," the Supreme Leader explained.
Ayatollah Khamenei then called for a proper understanding of the Islamic Republic and the Iranian nation's struggle against the arrogance, noting that unlike the wrong notions, such fight against the US is "not an illogical and emotional move, but a fight that originates from rationale and experience and with scientific logic."
Pointing to some apparent resilience that US officials showed in the course of nuclear talks between Iran and the Group 5+1 (Russia, China, the US, Britain, France and Germany), the Leader underlined that Washington's real intent has not changed and it is still pursuing its hostile objectives.
Religion, wisdom, conscience and humanity do not allow the Iranian people to extend a hand of friendship to the US, which looks for every opportunity to deal a blow to Iran and overthrow the Islamic Republic establishment, the Leader pointed out.
Imam Khamenei then highlighted the rationale and logic behind the slogan of 'death to America', saying it derives from Iran's Constitution and the fundamental principles that reject tyranny and oppression.
The Leader made it clear that the concept of 'death to America' slogan is condemnation of the US policies and arrogance.