IAEA Report Proves Peaceful Nature of Iran's Nuclear Program: Envoy
November, 19, 2015 - 15:33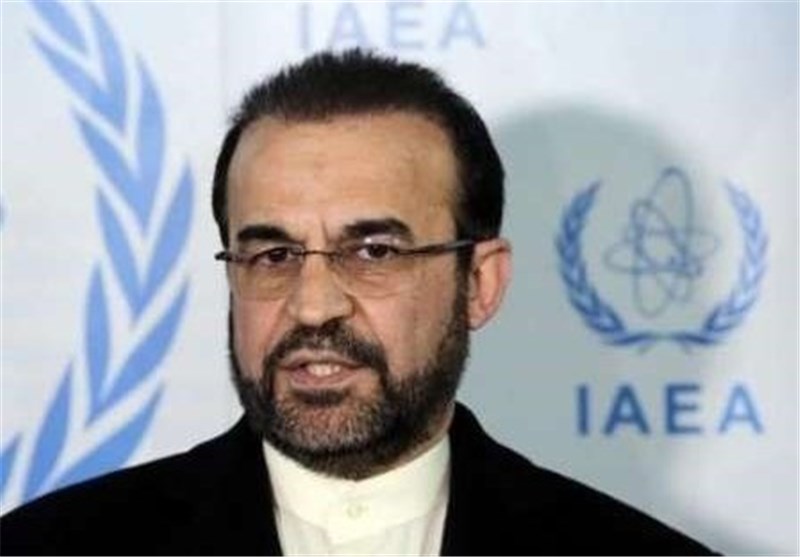 TEHRAN (Tasnim) – Iran's envoy to the International Atomic Energy Agency (IAEA) stressed that a recent report by the agency on Tehran's nuclear energy program once again showed the country's commitment to its obligations, but at the same time said the report includes "unnecessary" details.
Reza Najafi told the Tasnim News Agency on Wednesday that the report indicates that all nuclear activities in Iranian facilities continue under the IAEA supervision and there has been no deviation from peaceful purposes.
Najafi, however, regretted that the report once again includes "technical and unnecessary" details, which have been frequently protested by Tehran and the Non-Alignment Movement (NAM).
A comparison between this report and previous ones demonstrates that the IAEA has no new information to add about its main responsibility, which is the implementation of Safeguards in Iran, he said.
"The important point is that the Agency announced Iran has completed all the measures in the Road-map," he said, adding that the IAEA's director-general will release his final assessment report to the Board of Governors by December 15.
In its restricted quarterly report on Wednesday, the IAEA said the Islamic Republic has started limiting parts of its nuclear program, in compliance with a landmark deal reached between Tehran and six world powers.
Tehran "has started removing centrifuges and related infrastructure" at both the Natanz and Fordo enrichment facilities, said the IAEA.
Najafi stressed that the removed centrifuges had been left inactive in the Iranian sites for many years, and that these are reversible measures, which are carried out as preliminary steps.
"Certain steps, like starting the reconfiguration of Arak (heavy water) reactor or exchange of enriched materials will only be started after the closure of Iran's past issues case (also referred to as PMD case) in the IAEA Board of Governors," he noted.
On July 14, Iran and the IAEA signed a Road-map regarding the Islamic Republic's nuclear work in the Austrian capital city of Vienna.
The agreement was reached on the same day Iran and the Group 5+1 (Russia, China, the US, Britain, France and Germany – also known as P5+1 or E3+3) finalized the text of the Joint Comprehensive Plan of Action (JCPOA) in Vienna.
As part of the Road-map, the IAEA is required to finish its investigations on Iran's nuclear activities and submit a report to the agency's Board of Governors by December 15.
The UN nuclear monitoring agency has confirmed in its regular reports that Tehran has been complying with the terms of its agreement with the IAEA, required for the implementation of the JCPOA.
Under the JCPOA, limits will be put on Iran's nuclear activities in exchange for, among other things, the removal of all economic and financial bans against Tehran.