Abuja Angry at Rapid Growth of Nigeria's Shiite Population: Muslim Figure
TEHRAN (Tasnim) – A senior official with Nigeria's Islamic Movement said the recent massacre of Shiites by the African country's army forces has its roots in the anger of Abuja at the rapid growth of Shiite Islam.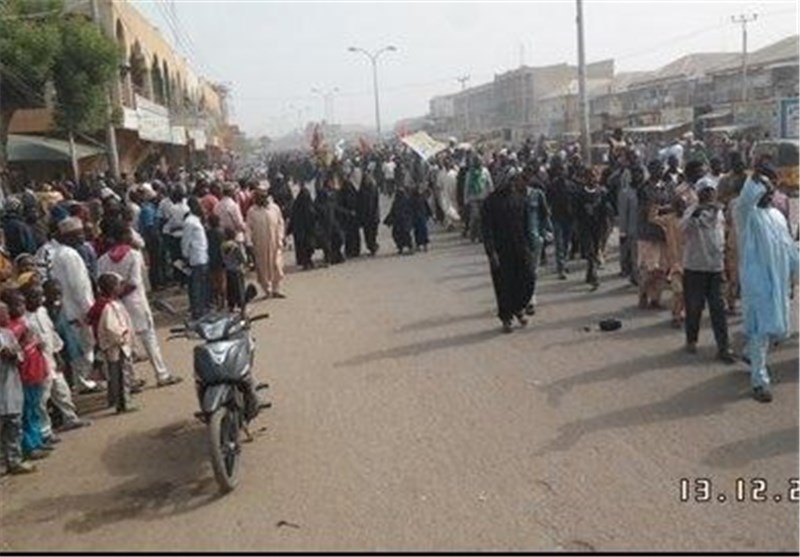 "The fact is that the motive behind Nigerian authorities' move to attack Shiites is not clear yet," said Ibrahim Musa, the head of Media Forum of the Islamic Movement, which the Nigerian army attacked recently, killing some of its senior members and arresting its leader.
The Islamic Movement figure told the Tasnim News Agency he believes that "the rapid growth of Shiite population in Nigeria and particularly the recent Arbaeen mourning ceremony" which was held on the martyrdom anniversary of Imam Hussein (AS) with the participation of millions of Shiites was a reason behind the attack.
Commenting on the latest death toll from the attack, Musa said primary figures show that 300 Shiite Muslims were killed during the army raids.
According to media reports, at least 60 people were killed this past weekend when the Nigerian army raided the Islamic Movement and arrested its leader, Ibrahim Zakzaky, in the northern city of Zaria.
On Sunday, the army raided several buildings connected to the Islamic Movement and the home of Zakzaky. They arrested him and killed key members of the group, including Zakzaky's second-in-command and spokesman.
Aliy, Zakzaky's son, was among dozens who lost their life in the raid.
Three of Mr. Zakzaky's sons had been killed in a similar attack by the Nigerian Army in July 2014.
The Islamic Movement insists its members did not attack the convoy of the Chief of Army staff, Tukur Buratai, as alleged by the Nigerian Army.