IRGC's 2,000-km Missiles Built to Hit Israeli Targets: Commander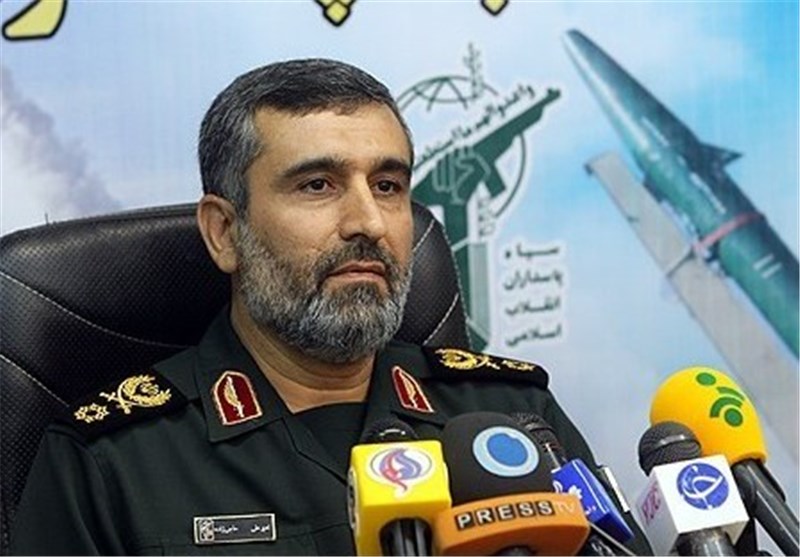 TEHRAN (Tasnim) – Commander of the Islamic Revolution Guards Corps Aerospace Force Brigadier General Amir Ali Hajizadeh said the new long-range ballistic missiles of the IRGC have been designed and developed to hit Iran's enemies, the Zionist regime of Israel in particular.
Speaking to reporters at the site of the ongoing nationwide missile exercises staged by the IRGC on Wednesday, Brigadier General Hajizadeh pointed to the objectives behind the military drills codenamed 'Might of Velayat', saying that the drills are being staged with the aim of strengthening missile bases' preparedness.
"We are not after territorial expansion but anyone who attempts to make a destructive or oppressive move against Iran will be targeted by our missiles and equipment ...," the commander noted.
"The Zionist regime's evil deeds are clear to us," he said, adding, "The reason why we designed the 2000-km missiles is to target the farthest enemy which is the Zionist regime."
The IRGC forces test-fired two types of Qadr ballistic missiles during 'Might of Velayat' drills in north of Iran on Wednesday morning.
The two ballistic missiles, Qadr-H and Qadr-F, were launched from the heights of East Alborz Mountains, north of Iran, and hit the targets on the Makran coasts, southeast of the country.
The projectiles streaked along Iran's airspace for some 1,400 kilometers before hitting the targets.
The IRGC Aerospace Force has begun the final stage of the missile drills in different parts of the country on Tuesday morning by firing ballistic missiles from silos.
According to the IRGC, the exercise is meant to demonstrate Iran's might and sustainable security in light of unity, convergence, empathy and harmony.