Iran to Use Everything for Defense, Except WMDs: Commander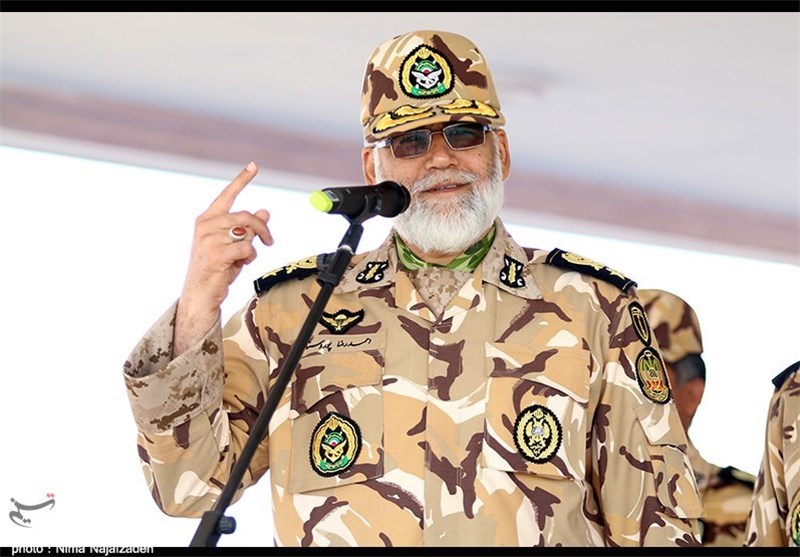 TEHRAN (Tasnim) – A top Iranian military commander said the country will not hesitate to employ whatever capacities available in the world to defend itself, except the weapons of mass destruction (WMDs) whose application is forbidden by the Leader of the Islamic Revolution.
Speaking to the Tasnim News Agency on Sunday, Commander of Army Ground Force Brigadier General Ahmad Reza Pourdastan underscored that the country's Armed Forces will take advantage of every "defensive capacity" in the world to boost their power.
The commander, however, noted that Iran will never resort to stuff that have been defined as red lines by Commander-in-Chief (Leader of the Islamic Revolution Ayatollah Seyed Ali Khamenei).
"The chemical, nuclear and biological weapons are things that we will not employ even if we possess them," he explained.
The senior commander also unveiled plans for war games to be staged by the ground, naval and air forces in future, larger than the previous drills.
His comments came after a recent missile exercise by the Islamic Revolution Guards Corps (IRGC) provoked hue and cry in the West.
The IRGC Aerospace Division test-fired a number of advance, ballistic missiles with pin-point accuracy in the drill.
IRGC Commander Major General Mohammad Ali Jafari had already described the message of the missile drill as security for Iran and the neighboring countries.