Iranian Cleric Urges Gov't to Seek Compensation from US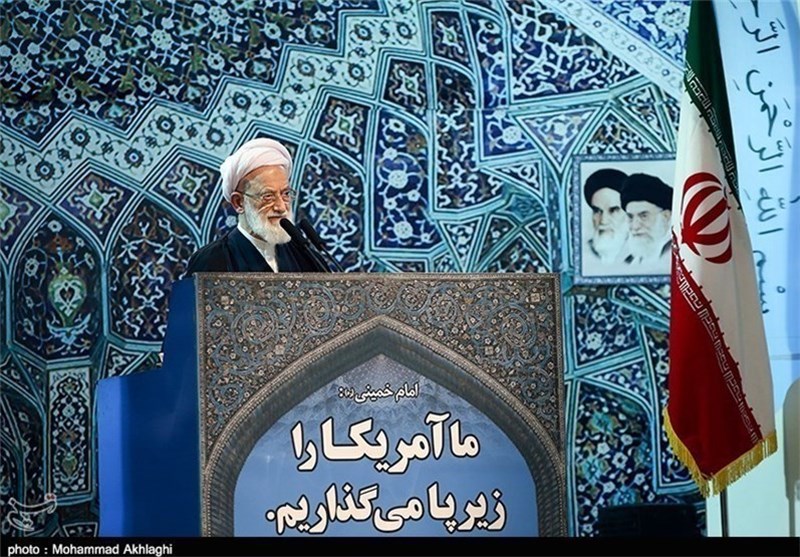 TEHRAN (Tasnim) – Tehran's Provisional Friday Prayers Leader Ayatollah Mohammad Emami Kashani called on Iranian President Hassan Rouhani's administration to "powerfully" pursue a recently-approved law to claim compensation from the US for the harms it has inflicted on Iran.
Addressing a large gathering of Iranian worshippers here in Tehran on Friday, Ayatollah Emami Kashani praised the parliament for its recent move to pass a motion obliging the administration to claim compensation for a host of material and moral damages that the US has done to Iran over the past decades.
"God willing, the administration will implement the law as powerfully as it can," the prominent cleric said.
Tagged with a double urgency status, the motion was approved unanimously on Sunday, with 181 of the 216 lawmakers present voting for it.
If the final bill with its preamble and details is adopted, the administration will have to take the necessary measures to receive compensation from the US government for its crimes against Iran and its nationals.
Elsewhere, Ayatollah Emami Kashani pointed to recent remarks by Leader of the Islamic Revolution Ayatollah Seyed Ali Khamenei about plots hatched by the US to tarnish the image of Islam and spread Iranophobia in the world.
He said God willing, all the hues and cries (against Islam) would come to an end in the near future but all Muslims should preserve their unity against the plots.
In a speech earlier this month, Ayatollah Khamenei slammed the US government for its continued hostilities toward Muslims and the Islamic Republic of Iran.
"Today, Islamophobia, Iranophobia and Shiaphobia, are among the definite policies of the US and its puppet regimes," Ayatollah Khamenei said in an address in Tehran to a gathering of Iranian people and high-ranking officials as well as Muslim countries' envoys on the occasion of Eid al-Mab'ath, which marks the anniversary of the appointment of Prophet Mohammad (PBUH) to prophethood.
The Leader pointed to the US-led attempts to discredit Muslims, saying, "Today, corrupt (terrorist) groups that are committing heinous crimes in the name of Islam are supported by Western powers."
Western countries "have purportedly formed a coalition against Daesh (ISIL or ISIS), but, in fact, they are backing the group," Ayatollah Khamenei said at the time.
The Leader added that within the framework of its Islamophobia policy, the US-led coalition calls the terrorist group "Islamic state" to damage the image of Islam.