Zarif Urges US to Do More to Facilitate Global Trade with Iran
TEHRAN (Tasnim) – Iranian Foreign Minister Mohammad Javad Zarif on Saturday said the United States ought to to take more practical steps to remove obstacles in the way of global enterprises' trade with Iran.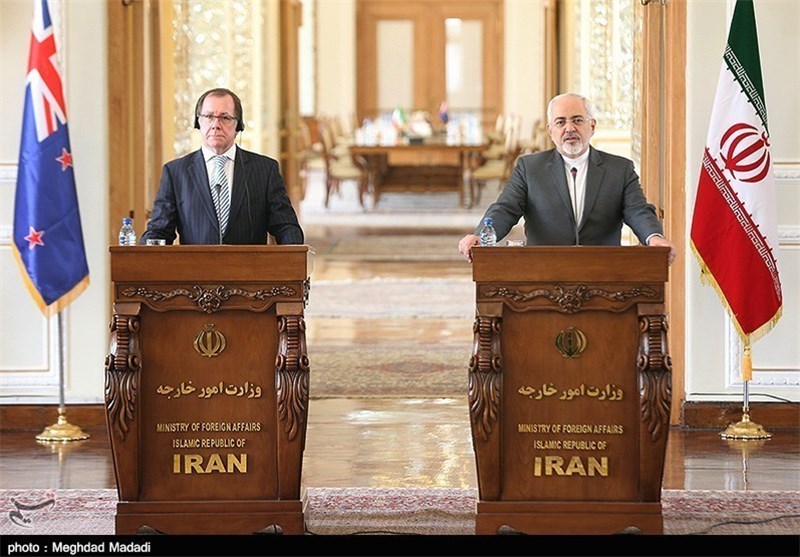 Speaking in a joint press conference with his New Zealand counterpart Murray McCully here in Tehran, Zarif referred to a joint statement released on Friday by three European countries and the US encouraging companies to do business with Iran, and said the move shows the countries feel it necessary to show their commitment to the July 2015 nuclear deal, known as the JCPOA.
"Under the Joint Comprehensive Plan of Action (JCPOA), the European Union and the United States have lifted economic and financial nuclear-related sanctions on Iran in exchange for Iran's significant curtailment of its nuclear program. This commitment to lift sanctions was fulfilled on Implementation Day, January 16, 2016, and, as a result, there are now extensive economic opportunities for companies and financial institutions in Europe and around the world to do business in Iran," said the joint statement, released Friday via the White House by France, Germany, Britain, the US and the High Representative of the European Union for Foreign Affairs and Security Policy on Post-JCPOA Business with Iran..
Zarif described the statement as insufficient. "This is a step (forward), but we have not reached what we should have and there need to be more measures taken by the US in this regard."
Obstacles have been created in the path of economic cooperation between Iran and other countries in the past, especially due to Washington's hostile polices and its sanctions, he further said.
These obstacles are being removed gradually as per the JCPOA, he added, reiterating, however, that along with statements, practical measures should also be taken to facilitate world trade and banking transactions with Iran.
While Tehran and the Group 5+1 (Russia, China, the US, Britain, France and Germany) reached the nuclear deal on July 14, 2015 and implemented it on January 16, Iranian officials have complained about the US failure to fully implement the accord.
Two months ago, Leader of the Islamic Revolution Ayatollah Seyed Ali Khamenei said Americans have yet to fulfill what they were supposed to do as per the nuclear deal.
Iran still has problems in its banking transactions or in restoring its frozen assets, because Western countries and those involved in such processes are afraid of Americans, Imam Khamenei said, criticizing the US for its moves to prevent Iran from taking advantage of the sanctions removal.