France Protests: Dozens Detained in Clashes with Police
TEHRAN (Tasnim) – At least 77 people have been detained across France during labor reform protests, which attracted an estimated 18,000 demonstrators in the French capital.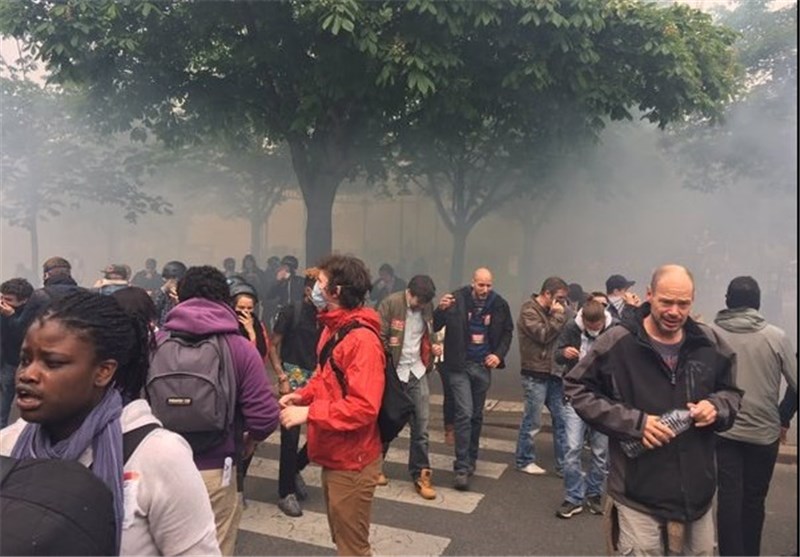 In Paris, demonstrators shouted anti-government slogans and sirens wailed in the background, as the march advanced on Thursday night from the Bastille plaza through eastern part of the city.
Police fired tear gas at demonstrators and made several arrests of people accused of property damage.
Earlier, workers from all 19 nuclear power stations in the country voted to join employees from oil refineries and railways in the strike, which already shut down refineries and forced the government to tap into its strategic fuel reserves.
The strike have also led to rolling blackouts across the country.
The protesters are angry at a reform that gives employers more flexibility to hire and fire and weakens the power of unions.
The marchers said "there could be no compromise" until the government retracts the new labor law, Al Jazeera's Natacha Butler reported from Paris.
Similar protests were also held in major cities across France.
Manuel Valls, France's prime minister, denounced violence while speaking to the Senate, even as he hinted that there could be amendments to the law.
Pressure is rising on the government as queues at petrol stations lengthen by the day and with football fans due to flood into the country in two weeks for the Euro 2016 championships.
As protests continued, the head of France's oil industry lobby said the government is considering forcing workers to return work if the stoppages drag on.