Protesters March on Democratic National Convention
TEHRAN (Tasnim) - Sweltering in Philly took on new meaning Monday as supporters of Bernie Sanders vented their anger at the email scandal that cost party chair Debbie Wasserman Schultz her job -- then turned up the heat at the opening of the Democratic National Convention.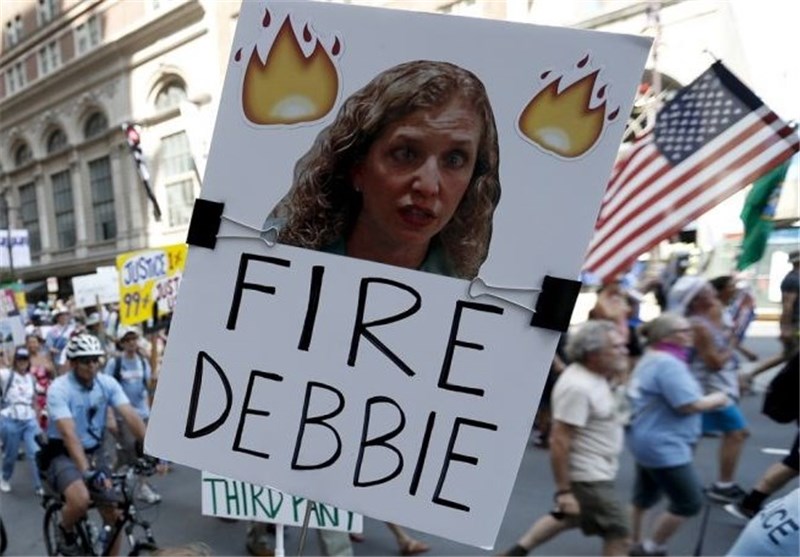 The protesters marched toward the convention site from City Hall downtown, with the crowd numbering close to 2,000 by late afternoon.
By late afternoon, hundreds of demonstrators were face to face with police on bikes. Five were taken into custody and placed in plastic handcuffs after they jumped a barrier that was erected just moments earlier. In total, dozens reportedly were taken into custody. But city police later said there had been no arrests; rather, 55 had been cited for disorderly conduct.
Inside the convention hall, boos also broke out among Sanders supporters as they jeered at the very mention of Hillary Clinton's name.
As the protesters gathered outside City Hall earlier in preparation for the march, volunteers handed out water to demonstrators as an oppressive heat wave hit the region. The National Weather Service forecast temperatures hitting the high 90s on Monday but feeling 100-plus degrees with the humidity factored in.
Despite the heat, demonstrators took up the cause -- coming from Florida to Philly and everywhere between.
Amanda Sullivan of Weston, Fla., told FoxNews.com she traveled north to take part in the demonstrations after experiencing voter suppression during the Democratic primaries.
"How violating, how absolutely dehumanizing," Sullivan said.
Monday's rallies, for some Sanders supporters, turned into a victory march following the stunning and sudden resignation of Florida Rep. Debbie Wasserman Schultz as the Democratic Party's chairwoman.
On Sunday, Wasserman Schultz resigned following furor over thousands of leaked emails that seemed to show Democratic National Committee members tipping the scales in favor of Clinton during the primaries.
The uproar was a blow to Democrats who had hammered Republicans over their lack of unity at last week's convention in Cleveland. On Thursday, Donald Trump formally accepted the Republican nomination. Police had anticipated protests and riots ahead of the Republican convention though only a few popped up.
In one of the largest rallies planned for Monday, a pro-Bernie Sanders group walked four miles across the Ben Franklin Bridge, which connects New Jersey and Philadelphia.