Ayatollah Khamenei Warns US against Iran Sanctions Extension
November, 23, 2016 - 16:03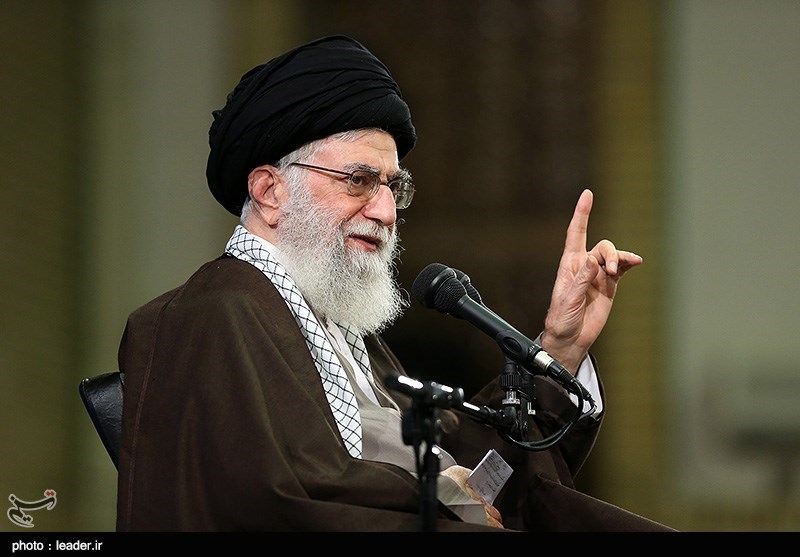 TEHRAN (Tasnim) – Leader of the Islamic Revolution Ayatollah Seyed Ali Khamenei described a possible renewal of anti-Iran sanctions for another 10 years as a clear violation of the JCPOA, warning the US government that Iran would certainly react to it.
In an address to a gathering of Basij forces in Tehran on Wednesday, Ayatollah Khamenei made it clear that implementation of a bill that the US lawmakers have passed recently to extend sanctions on Iran for 10 more years will translate into breach of the Joint Comprehensive Plan of Action (JCPOA), a nuclear agreement between Tehran and the Group 5+1 (Russia, China, the US, Britain, France and Germany).
"If such extension (of anti-Iran sanctions) is implemented and comes into force (in the US), it will be definitely a violation of the JCPOA," the Leader said.
"They (Americans) should know that the Islamic Republic of Iran will certainly show reaction to it."
The comments came after the US lawmakers passed a bill on November 15, renewing sanctions on Iran for 10 years. The House of Representatives voted 419 to one for a 10-year reauthorization of the Iran Sanctions Act, or ISA, a law first adopted in 1996 to punish investments in Iran's energy industry.
Elsewhere in the meeting, Imam Khamenei decried the US government for employing the JCPOA as a tool to mount pressure on the Iranian nation.
According to the Iranian officials and those involved in the nuclear negotiations, the JCPOA was supposed to lift pressures and sanctions on Iran, the Leader noted.
Apart from the US government's failure to meet commitments under the JCPOA or its incomplete fulfilment of the undertakings –as affirmed by the officials engaged in the JCPOA talks– Washington has now turned the nuclear deal into a tool for exerting pressure on Iran again, the Leader deplored.
However, Ayatollah Khamenei underscored, the Islamic Republic is not afraid of any force in the world as it relies on God's power and popular support.
As regards the results of the recent presidential elections in the US, the Leader said it is still early for making a judgement about the next US administration, but hammered the Obama administration for reneging on its promises.
"The incumbent (US) administration's actions are contrary to what it has undertaken under the JCPOA and to the joint decisions, which had been presented to us by the (Iranian) officials at that time, and it (the US) has committed multiple violations," Ayatollah Khamenei added.
While many consider the JCPOA a major breakthrough in the improvement of ties between Iran and the West, Imam Khamenei has repeatedly made it clear that Tehran's policy toward the US will remain unchanged regardless of the nuclear deal.
The accord took effect in January and was scheduled to terminate all nuclear-related sanctions against Iran all at once, but its implementation has been hampered mainly due to US policies.