Threatening Iran Futile: IRGC General
February, 04, 2017 - 15:51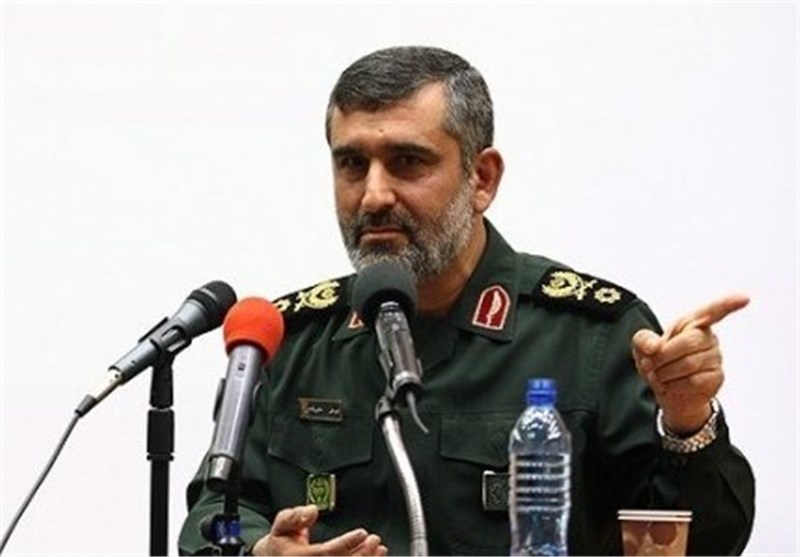 TEHRAN (Tasnim) – Commander of the IRGC Aerospace Force highlighted the futility of foreign threats against Iran, stressing that the Armed Forces are ready to defend the country in case the enemy makes a mistake.
In comments on the sidelines of a massive air defense drill on Saturday, Commander of the Islamic Revolution Guards Corps Aerospace Force Brigadier General Amir Ali Hajizadeh derided anti-Iran threats by US officials as nonsense.
"With the knowledge I have about the capabilities of the (Iranian) Armed Forces and about ourselves, I'd say with confidence that foreign threats against the Islamic Establishment (of Iran) are futile," the general underlined.
Denouncing the US hue and cry about Iran's missile tests as a mere pretext for expressing hostility toward Iran, General Hajizadeh said the country will not waste a moment to safeguard its security.
"Should the enemy make a mistake, our roaring missiles will rain down on them."
As regards the significant features of an ongoing air defense drill by the IRGC Aerospace Force in the province of Semnan, the commander noted that tracking "bombs dropped by planes and ground-to-ground missiles" was successfully done by the radar systems used in the war game.
The IRGC has employed a range of domestically-made radar and missile systems in the air defense drill, codenamed Defenders of Velayat Sanctum, whose main stage began on Saturday morning after five days of preparatory work.
The drill covers an area of 35,000 square kilometers in the desert, according to General Hajizadeh.
The war game comes at a time of renewed US threats and sanctions against Iran.
On Friday, the US added 13 Iranian figures and 12 entities to its anti-Iran sanction list. Meanwhile, US National Security Advisor Michael Flynn threatened that new US President Donald Trump's administration will no longer tolerate what he described as "Iran's provocations that threaten our interests."
While the US rhetoric of military action against Iran has been stepped up since Trump took office in January, Leader of the Islamic Revolution Ayatollah Seyed Ali Khamenei has already cautioned the adversaries that Iran's reaction to any assault will not be confined to defense alone, but aggressors will have to face a crushing response.
"The enemy should realize that it will receive a heavy blow in case of launching an attack, and that our defense will entail response as well," Ayatollah Khamenei said in August 2016.
Imam Khamenei added that the country's military preparedness should reach such a high level that the enemies would not dare to even think about taking action against Iran.