Leader Warns against Relenting in Face of Enemy's Policy of Intimidation
TEHRAN (Tasnim) – Leader of the Islamic Revolution Ayatollah Seyed Ali Khamenei described intimidation and show of power as a tactic used by aggressors to meet their objectives, calling on all Iranians, the Armed Forces in particular, to keep disdaining such tactics of the enemy.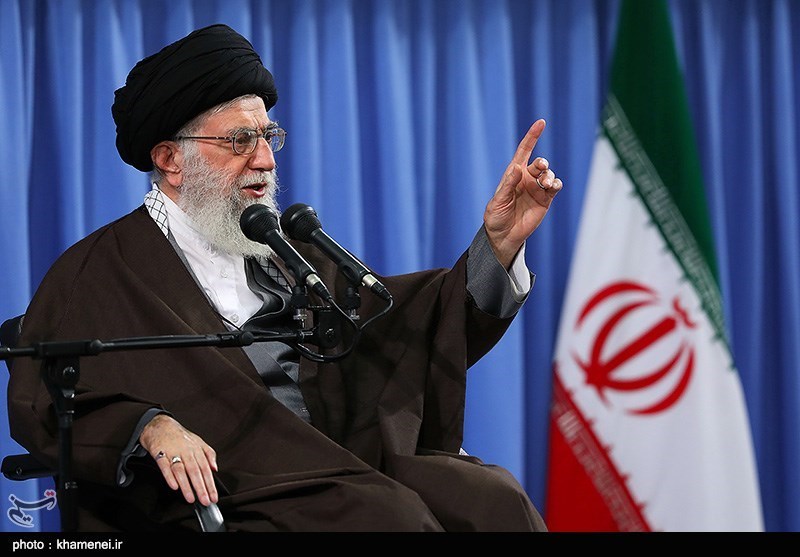 A tactic employed by aggressive powers is to intimidate nations and governments, to browbeat them into serving illegitimate interests, and to overplay their power, Ayatollah Khamenei said in a meeting with Army commanders in Tehran on Wednesday.
"The worst scenario for a country is that its officials would be frightened by the enemy's intimidation, since it will open the door for its (the enemy's) intrusion and aggression," the Leader warned.
Imam Khamenei then underlined that the Iranian nation should keep countering and remaining unaffected by the intimidating policies of the US and certain European states, noting that while the Armed Forces bear much of the responsibility not to fear the enemy, a major part of efforts for resistance should be made by economic officials, cultural and educational bodies, and those in charge of science and research.
The Leader further cautioned that the adversaries are looking for economic weak points to harm the Iranian nation, calling on the authorities to push for implementing the Resistance Economy grand plan to thwart the enemy's plots.
"I expect the officials to try to correct economic deficiencies and close loopholes as they observe the enemy's motive for abusing the economic weak points," Ayatollah Khamenei added.
Turning to the upcoming presidential election in Iran, the Leader warned of the enemies' attempts to damage the process of election by publishing tempting stories in their media outlets, stressing that the Iranian nation will foil such plots with the same vigilance it has shown in the past.
The election should be held with high turnout and in healthy and secure conditions, Ayatollah Khamenei emphasized, saying that way polls would provide the country with immunity.
The presidential election in Iran will be held on May 19.
Iranians will also cast their ballots in the City and Village Councils elections on the same day.