Dozens of Children Evacuated from Caracas Hospital amid Unrest
TEHRAN (Tasnim) – About 50 children were evacuated from a Caracas hospital which the Venezuelan government blamed on an attack by armed gangs but the opposition attributed to tear gas used to quell unrest.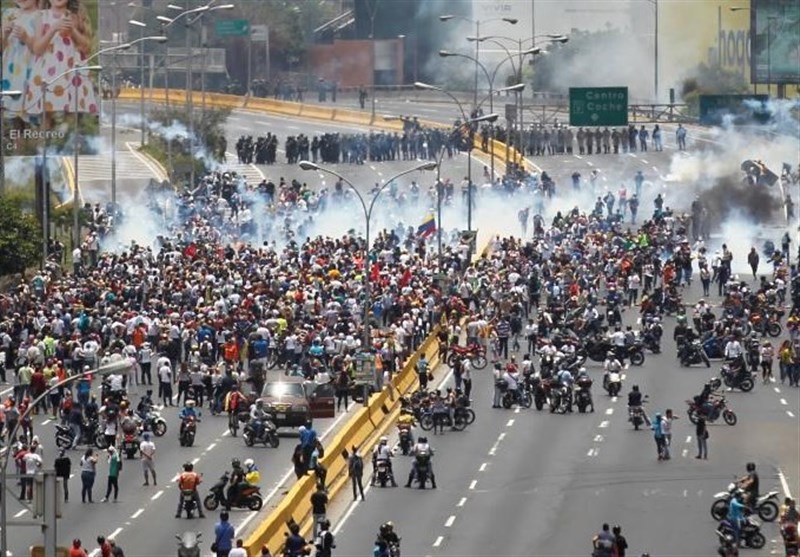 As protests and looting continued into the night on Thursday following another day of clashes between police and demonstrators in the capital, the government and opposition traded blows over the events at the maternity hospital.
"I denounce before the international community that armed gangs hired by the opposition attacked a maternity hospital with 54 children," Foreign Minister Delcy Rodriguez tweeted, noting that President Nicolas Maduro had ordered the hospital's evacuation.
Demonstrators have vowed not to flinch in their campaign to oust Maduro, despite three weeks of protest violence that has left eight people dead, including three Wednesday.
Earlier Thursday police fired tear gas and rubber bullets to break up thousands of marchers as they reached a vital freeway in Caracas, then edged back slightly as masked protesters pelted them with stones and Molotov cocktails, AFP reported.
Protesters blame Maduro -- heir of the leftist "Bolivarian revolution" launched by the late Hugo Chavez in 1999 -- for an economic crisis marked by severe shortages of food, medicine and basic goods.
Maduro says the protests seeking to oust him are backed by the United States.
On Thursday, Maduro said the opposition was ready to begin a political dialogue, which his opponents denied.