Mogherini to Lavrov: EU Sanctions on Russia Not Brussels' 'Goal'
TEHRAN (Tasnim) - EU foreign policy chief Federica Mogherini said at a meeting with his Russian counterpart Sergei Lavrov that EU sanctions on Russia are not a "goal in themselves."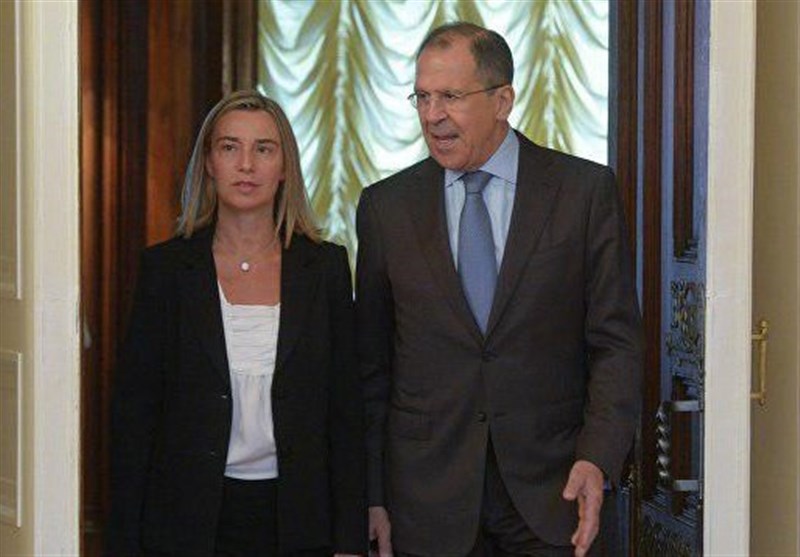 Federica Mogherini said Monday the Russia-EU bilateral cooperation is not frozen.
"Our bilateral cooperation is not frozen, my visit here is a good demonstration of that," Mogherini told reporters after a meeting with Russian Foreign Minister Sergei Lavrov in Moscow.
"It is true that it is not what it used to be, we used to have strategic cooperation…. We would like to go back to the situation of that kind. But it would be surreal to consider each other strategic partners and have sanctions," she said, Sputnik reported.
"Our sanctions are not a goal in themselves," she added, saying that such "policy aim is to end the conflict in eastern Ukraine."
Meanwhile, Lavrov questioned the logic of the European Union's sanctions on Russia in light of the need for all sides to comply with a set of agreements to settle the Ukrainian conflict, calling Kiev's unwillingness to comply with the agreements "apparent sabotage."
Speaking alongside the EU foreign policy chief, he accused Kiev of "avoiding direct dialogue with Donetsk and Lugansk, although it is written in black on white in the Minsk documents."
"But, of course, if the position of the European Union is that everyone must fulfill their part of the obligations, the question arises: why sanctions only against Russia?" Lavrov said.
The Russian diplomat stressed that "the apparent sabotage by the Kiev leadership of everything that is written in the Minsk document should of course meet some reaction from those who patronize this government."
Lavrov also said he and Mogherini have confirmed the need to intensify political dialogue and hold it regularly.
"We reaffirmed the mutual interest in intensifying the political dialogue, which in our opinion should be set up on a regular basis."
Since 2014, the European Union and United States have imposed several rounds of sanctions on Russia over the situation in Ukraine. Moscow denies allegations it is involved in the conflict and has introduced countermeasures in response to sanctions.