Top General Vows Iran's Crushing Response in Case of Enemy Miscalculation
TEHRAN (Tasnim) - The Chief of Staff of the Iranian Armed Forces warned the enemies against any miscalculation to attack Iran, reminding them to brace themselves for a humiliating defeat at a theater to be defined by the Islamic Republic.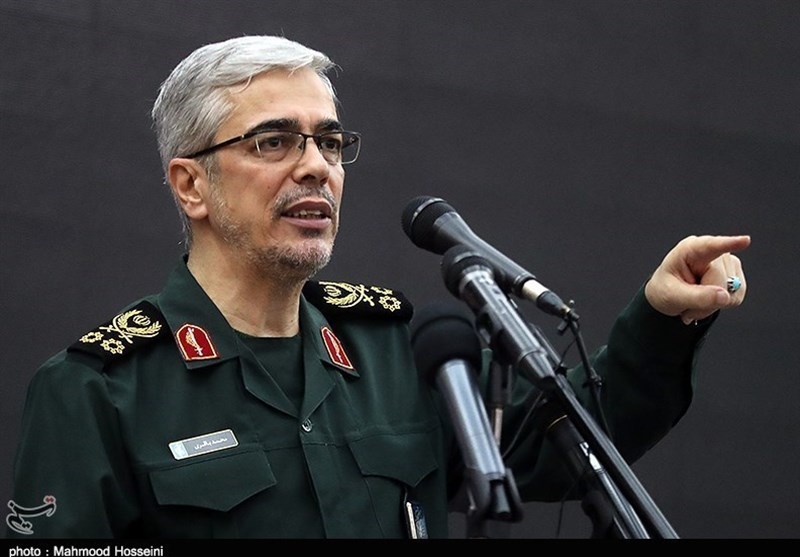 "The enemies should know that any miscalculation or merest aggression against the Islamic Establishment or territories will draw a prompt, decisive and crushing response, at locations of our choosing, that will make them regret (their move) and suffer defeat," Major General Mohammad Hossein Baqeri said on Monday in an address to a graduation ceremony of Police cadets in Tehran.
The top general added, though, the adversaries have admitted that a military action against Iran would be difficult and even impossible.
Major General Baqeri then slammed the recent attack on Iranian border guards in a southeastern area near Pakistan as an example of the enemy resorting to a "method used by burglars and cowardly bandits" in which a number of mercenary "worthless terrorists" attempt to upset border security.
Elsewhere in his comments, the commander criticized certain local officials for trying to link the country's missile power and display of military achievements to "a minor issue like the JCPOA," a nuclear agreement between Iran and the Group 5+1 (Russia, China, the US, Britain, France and Germany)
According to the text of the JCPOA, the nuclear deal has nothing to do with Iran's missile power, the top general stressed, saying Iranian nuclear negotiators have themselves repeatedly made it clear that Tehran's defense and deterrent power had helped them proceed with diplomatic negotiations with world powers.
His comments came after a presidential candidate criticized what he called the Islamic Revolution Guards Corps' (IRGC) attempts to derail the JCPOA.
In a nationally-televised debate on Friday, one of the six presidential candidates accused the IRGC of attempting to spoil the nuclear deal by unveiling underground missile facilities or writing anti-Israeli slogans on its ballistic missiles.
Iranian officials have repeatedly underscored that the country's military gear or test of missiles are issues related to defense of the territorial integrity and have nothing to do with the JCPOA.